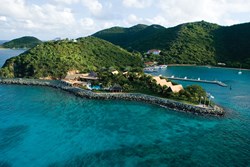 "Today many of our guests like to be more active and they enjoy our post-workout spa experiences more than ever," states General Manager Wilbert Mason. "Our new offerings cater to that increased demand."
New York, NY (PRWEB) August 12, 2013
Peter Island Resort & Spa, the British Virgin Islands' largest luxury private island resort, offers guests all the elements for a relaxing Caribbean vacation getaway including the pursuit of beauty, wellness and fitness.
Beauty Boost - New High Performance Natura Bissé Facials Debut In The Spa
This November, The Spa at Peter Island Resort debuts the Diamond Experience Facial. "We researched many different options for our new facial line," states Safyie Reed, Spa Director. "Natura Bissé's top quality, high-performance Diamond Facial products produce impressive visual results we knew our guests would appreciate."
A rumored Oscar season favorite among celebrities, Natura Bissé's Diamond Experience Facial lifts, lightens, firms and brightens skin with Natura Bissé's exfoliating Glyo-3 Peel, a sculpting facial massage that promotes circulation and toning, a series of moisturizer applications, targeted eye-area hydration and the application of one of Natura Bissé's serums based on skin type. The Diamond Experience Facial finishes with a facial massage using two roller ball-like Diamond Frozen DNA that help firm and repair skin cells.
Based in Barcelona Spain, Natura Bissé has been developing top quality, high-performance facial and body cosmetics since 1979. Natura Bissé is sold in select luxury boutiques and department stores throughout the U.S. including Neiman Marcus, Barneys, Bergdorf Goodman and SpaceNK. Peter Island Spa's Diamond Experience Facial is 90-minutes and starts at USD 260.
Wellness Quest - The Spa's Authentic Ayurvedic Offerings
Peter Island Resort has one of the few spas in the U.S. and Caribbean offering authentic Ayurvedic consultations, treatments and customized programs with certified Ayurvedic therapists from India. Ayurvedic practices, therapies and principals going back thousands of years were developed to achieve optimum mind and body wellness, and The Spa at Peter Island offers a menu of these Ayurvedic treatments, as well as 1-day, 3-day or 5-day Ayurvedic Experience programs. The Ayurvedic Experience includes a dosha diagnosis session, a customized series of Ayurvedic treatments, and tailored nutritional, exercise and lifestyle advice based on a guest's dosha.
The Ayurvedic Experience starts at USD 450 for 1-day, USD 1,100 for a 3-day program and USD 1,900 for 5-days. For guests looking to detox Ayurvedic-style, a 1-day, 3-day or 5-day Pancha Karma Cleanse is also available. The cleanse is based on a personalized dosha diagnosis session with a certified therapist followed by a recommended menu of detoxifying foods and juices to help enhance the bodies detoxification abilities. Pricing for the Pancha Karma Cleanse is available upon request.
Fitness Adventure –– The Island-Athlon Challenge -- A Great Workout For A Good Cause
For those who consider a good workout part of their vacation relaxation, the Peter Island-Athlon Challenge is an ideal way to boost physical activity with the added benefit of supporting the local BVI community. "In years past, most of our guests would find a beach hammock and that would be the daytime activity for their entire vacation. Now every morning we see guests running, hiking and biking the island's 5-Mile Loop," states General Manager, Wilbert Mason. "It occurred to us that Peter Island has all the land and sea components needed to create an athletic challenge that guests can enjoy during their stay. The sense of achievement and the donation the resort makes on the guests' behalf are added benefits to getting a great, challenging workout."
The Peter Island-Athlon Challenge has two levels of difficulty:
Islander Challenge - for active fitness fans

½ mile kayak
5-Mile Loop by bike
2 mile run/walk
Islander Challenge 2.0 - for harder-core workout warriors

1 mile swim in the calm waters of Deadman's Bay
2 laps by bike on the 5-Mile Loop (10 miles total)
1 lap run on the 5-Mile Loop
The Island-Athlon Challenge can be done by a single guest, couple or group. A dedicated Athlon Coach monitors and times guests throughout the challenge. After successfully completing the course of their choice, guests will receive a certificate of achievement and a donation will be made by Peter Island to a local charity on their behalf. The Island-Athlon Challenge is priced at $250 per person. 72 hours notice is recommended to secure equipment, the Athlon Coach, and to set up the course.
About Peter Island Resort & Spa
An idyllic private island hideaway known to yachtsmen and sailors for over 30 years, Peter Island Resort & Spa offers 1,800 acres of paradise with five pristine beaches, three captivating, fully-staffed, residential-style Villas, Beachfront Junior Suites just steps from the sea, and charming, conveniently located Ocean View Rooms. Home to one of the Caribbean's most spectacular spas, the 10,000 square foot oasis has a staff of talented therapists who take pampering to an entirely new level. The island's wide variety of land and sea activities include private diving and snorkeling excursions, sea kayaking, windsurfing, tennis, sailing, deep sea fishing, and hikes to the island's scenic Sunset Loop. Located in the British Virgin Islands, Peter Island is a treasured secret among sophisticated travelers seeking the luxury of a private island and the Caribbean as it's meant to be. For reservations or more information, please go to http://www.peterisland.com or call 800-346-4451.
Media Contact:
Tammy Peters
Media Mixology
tammy(at)mediamixologypr(dot)com
646.361.4922