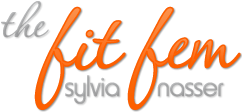 Keeping The Fun In Fitness.
Hicksville, NY (PRWEB) August 06, 2013
Sylvia Nasser, CEO of the Fit Fem Studio, will now offer in-home personal training to women on Long Island and in Connecticut and Westchester.
Nasser's in-home personal training is perfect for the woman who does not want to deal with the stress of going to the gym. No more looking for parking, signing up for classes or waiting for equipment. The Fit Fem brings the gym to her clients.
Nasser or one of her trainers will go to women's homes and offer fun yet intense workouts along with nutritional advice and emotional support.
The Fit Fem's In-Home Personal Training Program will benefit the woman who does not want eyes on her at the gym, the woman who wants to get fit in the privacy of her own home.
Studies have shown that clients lose more weight when they hire a trainer. The Fit Fem's in-home personal training will help women reach their fitness goals quickly and safely.
Women no longer have to feel self-conscious about working out in a gym. The Fit Fem's In-Home Training Program will get women, stronger, leaner and more confident in their own homes.
The Fit Fem Studio
Created by Sylvia Nasser, The Fit Fem, in 2010, The Fit Fem Studio is a Long Island based company that focuses on the softer, fun, yet intense side of fitness. The Fit Fem Studio offers in-home personal training, an online gym that feature on-demand workouts and group fitness sessions. The business focuses on getting women healthy, but having them appreciate and embrace their bodies during the process. The Fit Fem Studio has been featured on Newsday.com, IndieChicks.com, EverydayHealth.com, Fios1News and WeTv.com