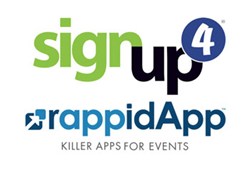 The recent evolution of rappidApp has been intense and exciting as we've added an arsenal of new features over the last several weeks
Atlanta, GA (PRWEB) August 05, 2013
Since its acquisition over a year ago, rappidApp has seen significant improvements to its user interface and back-end functionality. With an ever changing and demanding meetings and event industry, integrations with mobile apps and event management software are now a requirement for corporate event professionals. This complete integration of the Event Management System and rappidApp includes numerous time-saving and efficiency updates, which will assist event professionals and their teams with streamlining their event management processes.
"The recent evolution of rappidApp has been intense and exciting as we've added an arsenal of new features over the last several weeks. Our customers are taking notice of the value this product brings and they're playing an instrumental role in driving the future development of the application," said Matt Curry, Director of Business Development.
Users can now integrate detailed breakout sessions within the app to include date, time, location, speaker, and track to consistently promote guest presenters and vital sessions. Public event calendars can be shared for organizations that hold multiple events, in return driving further awareness. With each new attendee registration, the app will automatically update the attendee list for improved networking capabilities. To complete the user-friendly experience, EMS integration also includes full agenda posting. With just one click event professionals can save their updates created within the Event Management System and have their work directly imported into their event app.
Social integration and interaction have also been a top priority with the inclusion of an event photo album. There's an immediate need to drive adoption and engagement to assist with the overall return on investment for event professionals' events and event applications. This feature supports engagement, allowing the user to build a tab within the app where attendees can upload their event photos directly into the app to be shared among their colleagues. Continuing the conversation before, during and after the event is a seamless process with the integration of SurveyGizmo. Users can create live polls and surveys for real-time data collection. Speakers can share polls during sessions to leverage interaction and get real-time results to share with the group.
Event and travel managers attending GBTA in San Diego can stop by booth #425 to learn more.