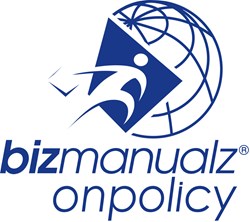 Faster, easier document access and usability helps everyone needing policy procedure management software.
Saint Louis, Missouri (PRWEB) August 04, 2013
Bizmanualz, Inc., a business process, policy and procedure management company, announces the latest release of its OnPolicy SaaS solution for procedure management.
The latest OnPolicy procedure management software (release 2.5) contains three main improvements designed to enhance usability: greater document management speed, improved application look and feel, and enhanced software security.
"Faster, easier document access and usability helps everyone in using the OnPolicy procedure management software" explains Chris Anderson, Bizmanualz, Inc. Managing Director. "Using Bizmanualz OnPolicy software service provides an easy-to-use SaaS application designed to automatically maintain all of your policy procedure documents online and in compliance."
Some of the new OnPolicy.com features implemented include:

Policy procedure software code has been redesigned for faster database calls, screen updates, and presentation resulting in a much faster program.
New computer server provides faster processing, ultra fast solid state hard drive technology, and faster memory.
New Icons have been added to the document management home page to speed access to Help, Adding Documents, Reports, Required Reading, All Documents, Documents Followed, and a Chart showing released procedure documents.
Powerful New Drag & Drop, multi-file upload capability greatly simplifies adding a lot of policy procedure documents all at one time.
New login security feature locks out procedure document users for 5 minutes after 3 failed login attempts.
OnPolicy (http://www.onpolicy.com) simplifies document version control and compliance with automated review and approval workflow, easy document access, and internet content distribution. It encompasses a full library of policies, procedures, forms, job descriptions, and guides; reducing the need to write policy and procedure documents from scratch. This procedure management solution "simplifies document compliance" and allows clients to focus on their core business.
Bizmanualz has been at the forefront of business process management helping companies become winners in their field. Bizmanualz OnPolicy Procedure Management Services are available by calling 800-466-9953 (outside the U.S. call 314-863-5079); faxing 314-863-6571; e-mailing sales(at)Bizmanualz(dot)com; or logging on to http://www.Bizmanualz.com or going directly to http://www.OnPolicy.com. Bizmanualz® is a registered trademark of Bizmanualz, Inc.