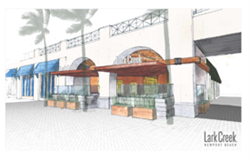 "I'm looking forward to bringing what I've learned across the country back home to Orange County, and taking full advantage of the area's local produce, meats, and seafood," said Chef/Partner John Ledbetter.
Newport Beach, California (PRWEB) August 05, 2013
There's an explosion of culinary flavors occurring in Newport Beach right now, and the latest sampling of seasonal, sustainable, farm-fresh cuisine, Lark Creek Newport Beach, arrives Monday, August 5th.
Exclusive to Orange County, the restaurant will be helmed by Chef/Partner John Ledbetter, and will offer diners seasonal, sustainable, farm-fresh cuisine, perfect for the coastal lifestyle, for lunch, dinner, and weekend brunch. Designed by the nationally recognized Cass Calder Smith Architecture, the space will feature an outdoor lounge, full bar, and private dining space. Lark Creek Newport Beach will provide an inviting dining destination for guests stopping by anytime, whether for a quick business lunch, happy hour with friends, a remarkable three-course dinner, or a relaxing weekend family brunch.
Chef/Partner Ledbetter, a Huntington Beach native, makes his return to Orange County to head up the kitchen at Lark Creek Newport Beach, having previously worked in New Orleans, New York City, and at LarkCreekSteak and Bocanova in Northern California.
"We are incredibly excited to open Lark Creek Newport Beach, as many of us have ties to Orange County," says Ledbetter. "I'm looking forward to bringing what I've learned across the country back home to Orange County, and taking full advantage of the area's local produce, meats, and seafood."
Both Ledbetter's and the restaurant's personal affinity for farm-fresh ingredients and sustainable seafood, all of which is sourced in accordance with Monterey Bay's Aquarium Seafood Watch program, is evident on the restaurant's menus, with a selection of fish dishes, meat entrées cooked on an almond wood-fire grill, poultry, salads, pasta, scrumptious desserts, and more.
Lark Creek Newport Beach will also be the first California restaurant to be certified by SPE, a unique program that defines a new way to eat by enhancing the nutritional quality of meals without compromising taste. Already featured at some of the top restaurants across the world, this highly-regarded program will play a large part in the Lark Creek Newport Beach's focus on healthful, fresh cuisine, with several SPE-approved dishes and a SPE three-course prix fixe option available on the lunch, dinner, and brunch menus. All menus designate items that are vegetarian and vegan, and gluten-free menus are available upon request.
The dinner menu offers Starters such as Heirloom Tomato Gazpacho with cucumber sorbet and fennel pollen; White Shrimp Ceviche with avocado, toy box tomato, cilantro, habanero, lime, and plantain chips; and Watermelon Carpaccio served with feta, radish, mint, and champagne vinaigrette. Mains include Wild King Salmon with grilled baby fennel, yellow pepper, and a saffron broth; Alaskan Halibut with potato gnocchi, English peas, and pea tendrils; as well as almond grilled wood-fired steaks like the "1855" New York Strip, and whole local fish. Guests can also choose from a selection of Sides such as Grilled Summer Corn with fava beans and tomatoes and Roasted Zucchini with golden raisins. The lunch menu offers a selection of Sandwiches like the Ahi Tuna Burger with mizuna and shaved fennel salad and saffron aioli; Mains such as the Gulf Prawn Skewers served with roasted corn, poblano chilies, basil, and roasted tomato vinaigrette; and Salads including the Mixed Baby Kale and Quinoa Salad with sunflower seeds, roasted plum, and white balsamic vinaigrette, with the option to add chicken or Gulf Prawns. Diners looking for a sweet end to their meal will delight in the restaurant's signature Butterscotch Pudding, Nectarine Blueberry Crisp, and the tempting Strawberry Panna Cotta.
The weekend brunch menu showcases a farm-fresh take on breakfast classics, including the Pork Tamale with masa cake, a poached egg, salsa verde, and queso fresco; Eggs Benedict with shaved pork loin and Hollandaise on an English muffin; and Buttermilk Waffle served with mixed berries, maple syrup, and whipped cream. For younger guests, Lark Creek Newport Beach offers a kids' menu of crowd pleasures and health-conscious favorites such as the Grilled Cheddar Cheese Sandwich and Grilled Free-Range Chicken Breast with farmers' market vegetables.
To complement the menu, Lark Creek Newport Beach will offer a sophisticated bar program, serving a list of artisanal, hand-crafted cocktails from the restaurant's cocktail curator, such as the Sangri-La, made with citrus vodka, Dubonnet rouge, orange juice, cranberry compote, cinnamon, and soda, and Blink of an Eye, with rye, ruby red grapefruit juice, lemon juice, and pomegranate grenadine. In addition to craft beers, "zero-proof" cocktails, and fresh-squeezed juices, the wine list will provide guests with an impressive choice of wines, including several on tap, from Napa Valley, the Santa Cruz Mountains, Santa Barbara, Mendocino, and Sonoma counties, as well as from regions around the world.
Located on the west side of picturesque Fashion Island below the Island Cinemas, Lark Creek Newport Beach's design blends together inspiration from the natural beauty of Northern California with the stylish coastal culture of Southern California, featuring solid walnut tables, scored concrete floors, vibrant tiled walls and fabrics, and original artwork to create a fashion-forward yet relaxed dining experience.
After passing through the restaurant's open entrance, complete with a vine-covered canopy, guests enter an outdoor patio area accented by a living plant wall and fire pits, as well an outdoor-indoor bar. Once inside the 5,000 sq. ft. space, guests choosing to sit at one of the bar-adjacent large communal tables can have a front row seat watching the kitchen through a large open window. The bustling main dining room provides groups with a lively setting to enjoy a meal with friends, and those looking for a more intimate dining experience can opt for a table in the raised dining area. Adjacent to the raised dining area is a stunning private dining room with AV capabilities, providing a comfortable yet special space for large parties and group events.
Lark Creek Newport Beach is located at Fashion Island at 957 Newport Center Drive in Newport Beach, and will be open for lunch, dinner, and happy hour Monday-Friday, and for brunch and dinner on Saturday and Sunday. Valet parking is available at the entrance of the restaurant adjacent to the garage between Nordstrom and Bloomingdales. For more information, call 949-640-6700, or visit the restaurant at http://www.larkcreeknb.com and on Facebook.
About Newport Beach, California
Nestled among golden stretches of pristine Pacific coastline between Los Angeles and San Diego, Newport Beach epitomizes the casually sophisticated lifestyle of Southern California. This idyllic seaside destination is widely celebrated for its natural beauty and vibrant yachting community alongside stylish accommodations, eclectic coastal cuisine and upscale shopping. Ranked among the "Top 10 Resort Towns in the U.S.," Newport Beach is also distinguished as one of the country's "Top 10 Best Family Beaches." A mild climate and picturesque backdrop minutes from the newly expanded Orange County/John Wayne Airport (SNA) offer year-round appeal. For more information on Newport Beach or for a complimentary visitor guide, please visit our website or call (800) 94-COAST.
Connect with us! Blog Facebook Twitter YouTube Pinterest Instagram