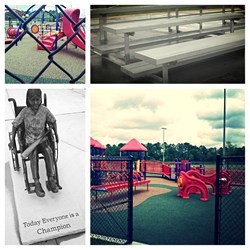 I can't wait to see the finished product…this has been in the works for a long time, and from where I'm standing, the ending looks wonderful.
Wilmington, NC (PRWEB) August 02, 2013
Nearly 1 in 5 people in New Hanover, Brunswick, Columbus, and Pender counties have some type of disability (miracleleaguewilm.org). In order for these residents to be active in sports and enjoy the outdoors, a space is needed that is completely flat with no obstacles for those in wheelchairs and walkers. ACCESS (Accessible Coastal Carolina Events Sports and Services) was ready to shake this situation up—and has now succeeded.
The brand new Miracle Field and playground in Wilmington, NC offers a safe and dedicated space for all to participate in physical activities and enjoy the outdoors. With a picnic area, baseball diamond, power chair chargers, cooling misters in the dugout, and family restrooms—all of which are fully accessible—Wilmington is enthusiastic about their city's recent addition.
Local mobility and accessibility equipment provider 101 Mobility was honored to professionally install bleachers at the Field's BRAX Stadium this past week. Six of 101 Mobility's skilled service technicians completed the installation in a single morning. 101 Mobility Product/Contract Representative Leslie Arduini scheduled and oversaw the project. "It was a great privilege," she said. "I can't wait to see the finished product…this has been in the works for a long time, and from where I'm standing, the ending looks wonderful."
BRAX Stadium is designed with a rubber, non-latex surface that is safe and stable for mobility device navigation. The bases are inlaid to allow wheelchairs, power chairs, scooters, and alternative devices the freedom to maneuver without obstruction or interference. It has the look and feel of a baseball diamond without the risks that can make a regular one hazardous for mobility device users.
The grand opening of BRAX and the Kiwanis Miracle Playground is this Saturday, August 3, from 9 A.M.—4 P.M. at Olsen Park. The event is free and open to the public, so come join us in celebrating the opening of the Southeast's biggest accessible playground.
For more information, visit http://www.miracleleaguewilm.org.
###
101 Mobility is a full-service sales, service, and installation provider of a complete line of mobility and accessibility products and equipment, including stair lifts, auto lifts, ramps, porch lifts, patient lifts, power wheelchairs, scooters and more. Short and long-term rentals are also available for home, office, and institution. By working with patients to identify which home health care devices best suit each individual's needs, 101 Mobility provides an alternative to group homes and rehabilitation centers by increasing accessibility and allowing clients to live self-sufficiently in their homes.