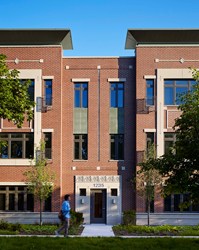 The buildings were completed ahead of schedule without compromising the quality of construction.
Chicago, IL (PRWEB) August 05, 2013
Skender Construction and architect Solomon Cordwell Buenz (SCB) finished construction on the 43,000-square-foot Albion Lofts complex. Loyola University Chicago owns the group of five three-story buildings, which contains 28 two-bedroom apartments and one four-bedroom apartment that are available for lease to Loyola students, professors and employees as well as other members of the community at market rate. Elara Engineering served as the project engineer for the buildings, located in the 1200 block of West Albion Street.
The project was completed on May 2, well ahead of its original May 23 deadline, despite challenges with soil remediation, close proximity to ComEd power lines and a tight site plan that shared an alley with another construction site. Skender Senior Project Manager Joe Pecoraro says the issues with the site were resolved by proactive planning and involving subcontractors early in the process. Principles from Lean Construction and tools such as the Last Planner System accelerated the project schedule.
"This was our first experience with Lean Construction and the Last Planner System. We saw how the processes were able to meet the challenges presented on this project," said Loyola Senior Project Manager Peter Schlecht. "The buildings were completed ahead of schedule without compromising the quality of construction."
After completing the Albion Lofts, Skender has been selected to work on another project at Loyola: the renovation of the University's Regis Hall, which will be completed later this year.
# # #
About Skender Construction
Skender Construction changes the way people experience construction. From our passion to the way we're innovating project delivery, our clients and project partners walk away feeling different about the process. Our approach is different – we believe a successful project builds on everyone's expertise. True collaboration, innovation and a focus on efficiency creates value that clients see and touch. For more information on Skender, visit http://www.skender.com. Skender is also blogging about their experiences in Lean Project Delivery at http://www.skender.com/blog.