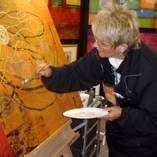 Scottsdale, AZ (PRWEB) August 04, 2013
Featured artist, Pat Stacy quotes "The tip of your brush is the tip of your soul," by Andrew Hamilton. "And so it is for me" says Stacy. "You will find an entity touched by the light of the creator in much of my recent work, acknowledging creativity as gift. This light is also expressed by descending golden squares. There are other symbols in my paintings as well, ready for the viewer to make them their own."
Stacy is a contemporary painter in mixed media, utilizing a brilliant color palette and deep texture to translate her personal expression to the viewer. A native of Arizona, Pat enjoys national and international success as well as gallery representation throughout the State.
Stacy is one of more than 100 artists that will be exhibiting on the banks of the Scottsdale Waterfront, that kicks off the 2013-2014 art season in Arizona. Thunderbird Artists also hosts the largest wine tasting events throughout the Southwest. For $10, patrons receive a souvenir wine glass and tasting tickets, thus providing attendees with a unique opportunity to sample an extensive collection of domestic and imported wines, all while strolling throughout fine art and listening to live music.
Thunderbird Artists music line up for the season is an exciting and diverse selection of artists. For the 2nd Annual Waterfront Fine Art & Wine Festival, the Featured Musician is local pianist, Elijah Bossenbroek. "At age six, when other children were playing with toy cars, I started playing the piano," states Elijah. At 18, Bossenbroek enlisted in the United States Marine Corps, where he spent the better part of five years traveling to places around the world. Upon his return from the deserts of Kuwait, Elijah purchased a home recording studio and began working on his first album, "Harmony In Disarray,". After gaining a lot of popularity and momentum in the music industry, he signed a record deal and produced his anticipated second album Carpe Lumen. Cd's will be available to purchase at the festival.
Jason Michael Tracy and Scott Helmer will also be performing during the three day festival. Jason's contagious energy livens up any crowd and is a show in itself. Scott began creating a new kind of music – music that resonates with others, that speaks of sorrow and spirit, laughter and longing. Scott is a master of reinvention and like his music – an inspiration. His contagious, radio-friendly blend of rock and pop infuses memorable guitar riffs, catchy sing-along choruses and lyrics that tell real stories.
The festival takes place on the pedestrian walkway of Scottsdale Waterfront. The newest 1.1 million square foot development revitalization project of downtown has become the place to visit, be seen and shop. The waterfront has become a landmark for spectacular public art as well as renowned restaurants and shops.
This event is located just south of Nordstrom's at the Southbridge pedestrian walk and is handicap accessible. Hours are 10am to 5pm each day. Admission is $3.00, and parking is free all weekend. Join us!