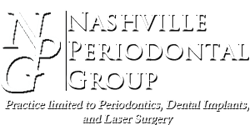 Nashville, TN (PRWEB) August 03, 2013
Nashville Periodontal Group is made up of periodontists concentrating on gum disease treatment and tooth loss solutions. The Center for Disease Control and Prevention found that half of all Americans over 30 are afflicted by some form of periodontal disease.
Many people may not know that gum disease can become so severe that it can ultimately lead to tooth loss. This occurs when bacteria in the mouth eats away at the tissues supporting the tooth to such an extent that the tooth must be extracted. Besides being a cosmetic issue for many individuals, missing teeth can also lead to larger health and wellness issues. When a tooth is extracted, the jaw bone beneath the missing tooth is no longer stimulated by the roots of the tooth. Without this stimulation, the bone begins to degrade.
Bone loss in the jaw can significantly alter the shape of the face and lead to further tooth loss. Healthy bone density is essential for good oral health, and is also required for many different dental procedures to be effective. When gum disease is properly treated in its early stages, there is a much better chance that the loss of teeth and subsequent bone loss can be prevented. In many cases, Nashville Periodontal Group recommends that the Laser Assisted New Attachment Procedure (LANAP) be administered for gum disease treatment.
LANAP is a less-invasive procedure than traditional methods that requires no cutting of the gums. Instead, it uses a high-tech laser to remove damaged gum tissue. The laser allows healthy connective tissue to remain intact, where it can reattach to the roots of teeth and stabilize the teeth. At the same time, the procedure stimulates regeneration of bone in the area that may have been damaged by gum disease. The stimulation of healthy tissues and bone stabilizes teeth, potentially saving teeth that would have otherwise required extraction. Patients who are concerned about gum disease or tooth loss and who desire a treatment that is effective and less-invasive should visit http://www.nashvilleperio.com for more information on LANAP gum disease treatment.
About The Doctor
Nashville Periodontal Group is a periodontal practice offering personalized dental care for patients in Nashville, TN. Drs. Akin and Dr. West are part of one percent of dental professionals providing the most recent FDA cleared laser procedure for gum disease treatment. Along with laser dentistry they have a strong focus on patient education on maintaining dental health. To learn more about Nashville Periodontal Group and their dental services visit their website at http://www.nashvilleperio.com and call (615) 800-3686.