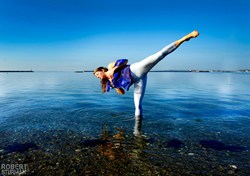 A photographer's tip: Love what you are seeing. Trust your intuition. If the composition feels right to you, then it will be beautiful.
New York, NY (PRWEB) August 08, 2013
World renowned photographer and artist, Robert Sturman is offering his award winning workshop online, for all to experience.
This is the sold-out workshop that has been offered in Los Angeles, Connecticut, New York and places in between. Now, subscribers don't have to travel to learn Robert's tips and techniques because StudioLiveTV is bringing this to an online device.
Professional photographers and picture-takers alike can learn how to capture that challenging pose on film. This workshop teaches how to take pictures worthy of framing, Robert's approach turns photography into an art.
Besides being an artist, Robert has a dedicated yoga practice, which surfaces in his direction to his models. Light, form and space all play pivotal roles in his work.
StudioLiveTV is honored and proud to offer this valuable seminar at the affordable price of $30 for a three-month subscription. That's only $10 per month. Sign up and see the difference in the finished product.
StudioLiveTV brings you a variety of classes and workshops online, for you to access anytime, anywhere. If you are a yoga teacher or wellness expert or a studio owner/manager, contact us and we'll tell you about our programs. An easy way to get an added income stream!
Robert Sturman was the official visual artist of 2005's 47th Annual GRAMMY® Awards. Sturman has formal training as a painter and photographer, and holds a Bachelor of Arts from the University of California, Santa Cruz. For more on Robert and his art, please visit his website or follow him on Facebook and Instagram.