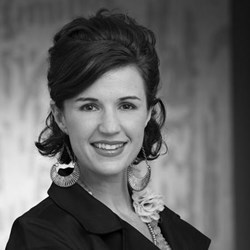 Austin, Texas (PRWEB) August 03, 2013
The International Interior Design Association (IIDA) has selected award-winning interior designer, Ashley Barnett-Griffith, IIDA, LEED AP BD+C, EDAC, of Perkins+Will Austin as the new Austin City Center Director. Ashley has a thirteen year passion for high quality design, healthy interior environments, and environmentally responsible practices. Having previously served as the Sustainability Chair of IIDA's Austin City Center, Barnett-Griffith initiated such notable sustainability projects such as the ZeroLandfill initiative, which supported local artists while diverting 90,000 pounds of waste since 2011.
Ashley Barnett-Griffith is an associate at Perkins+Will and leads the Green Team in the Austin practice. She is an advocate of eliminating the toxic substances found in many building materials that will in turn lead to healthier buildings and, therefore, healthier people. This desire is supported by the Perkins+Will Transparency Site, the first free, universally accessible database aimed at creating greater transparency into building materials containing substances that are publically known or suspected to be associated with an adverse finding in relation to human and environmental health. As Austin City Center Director, Ashley intends to continue to educate local designer's knowledge of toxic substances for the health and wellbeing of the citizens of Austin and the surrounding areas.
Similarly, IIDA encourages a balance between superior design and strategies for best business practices. IIDA has long provided a forum for design professionals to demonstrate a positive impact on the health, safety and well-being of the public. The State of Texas recently changed both licensing and continuing education requirements for Interior Designers. As City Center Director, Ashley intends to support local interior designers in this transition with new continuing education programs to promote high quality design that also reduces interior toxins and promotes environmental responsibility.
"Sustainable design is a result of a creative process that is not only collaborative, but multi-disciplined," stated Barnett-Griffith. "A large goal of mine this year will be to focus on empowering local designers to educate our community on healthy sustainable design and how interior designers play a large part in refining the impact of the built environment on human and ecological health. With programs such as IIDA's Austin City Center Zerolandfill, we can start to bridge the gap with our design community and the public."
As Barnett-Griffith continues to share Perkins+Will's interdisciplinary approach to transform lives through design, she will also help pave the way for members of IIDA's Texas Oklahoma Chapter to become the next generation of interior design innovators.
About International Interior Design Association (IIDA):
The International Interior Design Association (IIDA) works to enhance quality of life through excellence in interior design and to advance interior design through knowledge, value and community. IIDA is a professional networking and educational Association of 13,000 Members in 10 specialty practice forums and 31 Chapters around the world. Additional information is available on the Texas/Oklahoma website http://www.iida-tx-ok.org.
ZeroLandfill™ is an award winning upcycling program held seasonally that supports the supply needs of local artists and arts educators while reducing pressure on local landfill capacity. Since 2006, the ZeroLandfill™ project team has partnered with the architectural and interior design community in identifying, diverting from local landfills and re-purposing back into the community over 1 million pounds of expired specification samples that hold value for other audiences. http://www.zerolandfill.net
About Perkins+Will:
Established in 1935, Perkins+Will is a global multidisciplinary architecture and design firm founded on the belief that design has the power to transform lives and enhance society. With a staff of 1,500 in 22 locations worldwide, the firm serves clients across a broad range of project types, grounding its work in deep research. Perkins+Will ranks among the world's top design firms and is the recipient of hundreds of awards. Social responsibility is fundamental to the firm's outlook, work, and culture, and every year Perkins+Will donates one percent of its design services to non-profit organizations. With pioneering tools to advance sustainable design practices, the largest green building portfolio in North America, nearly 1,000 LEED® Accredited Professionals, and a commitment to the 2030 Challenge, Perkins+Will is recognized as one of the industry's preeminent sustainable design firms. For more information, visit http://www.perkinswill.com.