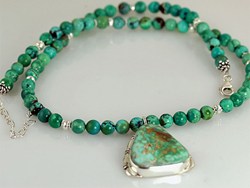 The authentic self is soul made visible. - Sarah Ban Breathnach
St Charles, Illinois (PRWEB) August 04, 2013
Native American Jewelry is in high demand and in response to the numerous requests of valued customers, DoubeDeeDeals.com has expanded their collections from artists of the Navajo, Zuni, Hopi and Choctaw tribes. DoubleDeeDeals is bringing back hundreds more of these beautiful works of wearable art from the reservations. The collections include men's rings, women's rings, bracelets, cuff bracelets, bolo ties, earrings, money clips, necklaces, Dream Catchers and so much more.
Each piece of Native American Jewelry has been individually selected to meet rigorous standards of craftsmanship, design, and of course authenticity. The array of special one of a kind jewelry displayed on the website is a delight to the eyes and the spirit, as one can appreciate and support these Native American Jewelry makers. Dedicated to offering you the finest collection and best value in American Indian Jewelry, whether a first purchase or an addition to a vast collection, the perfect piece is at DoubleDeeDeals.com.
This online retailer carries handcrafted sterling silver jewelry featuring Turquoise, Opal, Spiny Oyster, Lapis and other beautiful stones that reflect the colors of the southwest. By adding these treasures to a collection or giving them as a lovely gift, it is supporting the Culture and Traditions of Native Americans and all Americans, truly American made.
Finding an American Indian artisan to repair a precious piece of Sterling Silver Authentic American Indian jewelry is difficult. DoubleDeeDeals.com provides a trusted repair source. By simply emailing a request for a free estimate with any photos of the piece, a reply with an estimate and instructions is provided. Here are a few of DoubelDeeDeals repair customer's comments: From Bryan, "My wife was thrilled with her repaired bracelet and said, 'I had forgotten how beautiful this bracelet was'" and from Susan, "You brought my Grandmother's ring back to life, thank-you from the bottom of my heart."