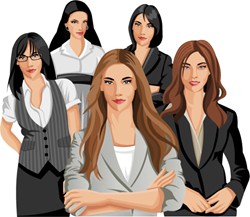 We feel this is important enough for a press release due to the fact that women owned businesses are on the rise
Bala Cynwyd, PA (PRWEB) August 06, 2013
Smallbusinessfunding.com has been helping small businesses find capital when their banks have turned them down due to time in business, bad credit, or need of funds in less than a week. Loans are between $5,000 and $500,000 and approvals are given in just 24 hours. Most recently, smallbusinessfunding.com help provide women in business with over $1million. "We feel this is important enough for a press release due to the fact that women-owned businesses are on the rise," says Michael Kevitch President, "and women in business are quickly becoming our largest clientele." September will be women in business month throughout the country and Varsity Business Solutions is happy to help this part of the business population.
Women in Business Financial Solutions
Varsity's commitment is to helping women in business find the capital they need fast. Providing a seamless process for the applicant is the goal. A hassle-free process is necessary in order for Varsity to provide its clients with an experience that is as easy as possible. From the application process (this takes only a few minutes), to documentation requests (which are minimal), and to the funding process, takes only five to 10 days. Funds can be used for expansion, equipment, new hires, training classes, or for cash flow. While women-owned businesses are growing in numbers, Varsity wants to be associated with as many women-owned businesses as possible. Their growth will help fuel our growth.
Join our team today and provide funding solutions for women in business.
Varsity Business Solutions is always looking for partners, affiliates, and ISO-Affiliates to join our team to help us provide financing for women in business. Feel free to look through our web site, smallbusinessfunding.com, and sign up on our site at the ISO-Partner page. Start earning the largest commissions in the industry and partner with the nation's premier source for small business funding for companies with a need for fast capital.
About The Company
Varsity Business Solutions, LLC, dba smallbusinessfunding.com, is the nations premier small business source for finding fast financing for businesses plagued with poor credit, a short time in business, or in need of fast capital. We offer merchant cash advance, unsecured business loans, and asset based loans.