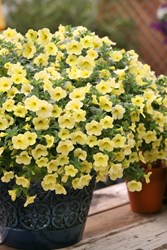 When introduced in 1993, Million Bells made decorating a patio, porch or window simple and accessible. They made consumers realize they could have it all in their gardens-beauty with ease," says James Farmer, garden designer and lifestyle expert.
Tokyo, Japan (PRWEB) August 06, 2013
Every summer, patios and gardens are draped in luscious colors spilling from hanging baskets and containers. Whether in combinations or on its own, the star of these floral shows is the calibrachoa, a small-flowering gem of a plant casually called Million Bells®.
This year, Suntory Flowers, the creator of Million Bells, is celebrating the 20th anniversary of this special plant.
"The calibrachoa revolutionized the gardening world," says James Farmer, a professional garden designer and lifestyle expert. "When introduced in 1993, Million Bells made decorating a patio, porch or window simple and accessible. They made consumers realize they could have it all in their gardens—beauty with ease."
And with the birth of Million Bells, container gardening took off.
Beauty from Breeding
Suntory hasn't always been a powerhouse flower breeder. In fact, the company is better known as a global beverage giant, with a major presence in top shelf whisky, wine, beer soft drinks and coffee categories.
In the late 20th century, breakthroughs in biotechnology revealed the opportunities in breeding for the horticultural market. Suntory scientists, who once focused on breeding crops for beverage manufacturing, were now setting their sights on flowers.
Two of Suntory's plant breeders, Drs. Yasuyuki Murakami and Kenichi Suzuki, eagerly took up the company's new flower breeding mission to create completely new varieties designed to be easy to grow and successful in the home garden.
They focused on a group of plants getting very little attention—the calibrachoa. At the time, these dainty flowers were considered a member of the petunia family, but overlooked commercially because of its small flower size and meager seed production.
The two breeders felt differently and saw great potential for a new type of flowering plant. They traveled the world with the mission of hunting for the best varieties of calibrachoa species that would bring new value to consumers.
"We needed something different than what our competitors were offered," says Dr. Suzuki. "We believed calibrachoa opened up a new category of plants for consumers, one they would fall in love with and have success with."
Both Murakami and Suzuki saw the plant's potential because the plant grew fast and continuously produced dainty flowers exploding with color.
Despite the challenging features of the many wild calibrachoa species they collected, they kept searching. The duo crossed thousands of calibrachoa plants until they developed just the right characteristics to make the plant a must-have in any garden—reliable flowers, an attractive form and a palette of irresistible flower colors.
"It looked like a mound of a million bells of color," says Suzuki, reflecting on the plants prolific flowering ability. The first two varieties Suntory brought to home gardeners were Million Bells Upright Blue and Million Bells Upright Pink.
Million Bells Today
Twenty years later, this revolutionary new plant is available in more than two dozen varieties, several different habits and many breathtaking colors - all blooming profusely throughout the seasons.
Suntory scientists are still hard at work developing new colors and forms, with four new varieties to be unveiled in 2014.
Calibrachoa, and Million Bells specifically, have enriched gardens and homes the world over since being developed in 1993. In fact, all calibrachoas are now commonly referred to as Million Bells, regardless of which company developed a particular variety.
"To some extent, we had expected this success because we believed so much in the plant's potential," says Dr. Murakami. "It is rewarding and humbling to know we have helped make many gardens more beautiful and many gardeners more successful with less effort with these dainty, powerhouse flowers."
Despite the explosion of calibrachoas from different breeders since Suzuki and Murakami's first two varieties, the original Million Bells from Suntory Flowers are still what gardeners ask for by name.
To learn more about The Suntory® Collection of beautiful flowers, visit http://www.suntorycollection.com/.