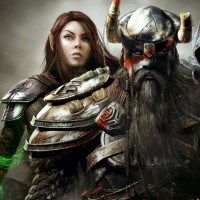 (PRWEB) August 02, 2013
Today, fans of the upcoming blockbuster title Elder Scrolls Online finally got to take a sneak peek at the game, thanks to Zenimax broadcasting an official gameplay stream via TwitchTV. The event brought in 35,000 viewers at the start and peaked right around 42,000; that alone shows the huge interest players have in this title.
It began with a short look at the character creation screen, as well as a little information in regards to the storyline of the game. There are three factions to choose from, and essentially the game takes place during a three-way war between these factions.
A detailed recap of important points is now available at Elder Scrolls Online Guide.
Player's reactions were hard to determine, since the chatbox was being spammed non-stop throughout the broadcast with comments ranging from incomprehensible garbage to some insightful responses that were quickly pushed out of view with the spam. Regardless, it is clear that this game is actually living up to all the hype that follows.
Paul Sage, the creative director for Zenimax was narrating the event, and players were watching gameplay of "Nick", a staff member. Players got to see some of the solo gameplay, including interaction with NPCs (who are fully voiced) as well as combat. The majority of the stream focused on group gameplay, specifically within a dungeon.
In the dungeon environment, it was shown how enemies would work together intelligently while in combat, for example enemies that heal would focus the player's targets. Also, players got to see another aspect of enemy teamwork when one enemy would pour a blue substance on the ground, and another enemy would then light that on fire and ignite any players standing nearby.
The group finished up the dungeon and the stream came to an end, but this was definitely a big move for the Elder Scrolls Online game since players finally got to see what the game really looks like, and it definitely looks good. ESO remains in a closed beta, and is set to hit shelves next spring. Visit Elder Scrolls Online Guide for more information and latest scoop on the most anticipated MMO game of 2014.