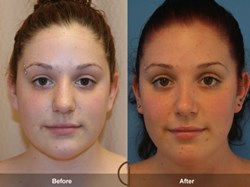 I encourage anyone who is interested in a nose job to do their research prior to making this important life decision.
Newport Beach, CA (PRWEB) August 12, 2013
In order to provide those interested in cosmetic surgery with a comprehensive guide to the rhinoplasty recovery process, facial plastic surgeon Dr. Kevin Sadati launched his new website NoseJobRecovery.com. This website allows Orange County patients to learn about the many different types of rhinoplasty procedures that Dr. Kevin Sadati offers as well as inform patients about the recovery process after the operation is complete.
"Patients who are prepared for the recovery process generally experience better results after their operation. This is largely because they know what to expect, how to take care of themselves and recognize the importance of following all post-operative directions," explained Dr. Kevin Sadati.
NoseJobRecovery.com offers Newport Beach patients with several different resources to help them become more informed about the rhinoplasty procedure, the surgical techniques and the recovery process. Patients will find this website to be a one-stop-shop for the best industry resources and the most valuable, accurate information.
Features included on NoseJobRecovery.com are:
Articles About Rhinoplasty Procedures and Techniques — Articles include information about procedures such as the traditional rhinoplasty, revision rhinoplasty, ethnic rhinoplasty, male rhinoplasty, teenage rhinoplasty and the non-surgical rhinoplasty. Other surgical procedures also are explained, such as the septoplasty surgery which corrects structural issues within the nose.
Information About the Cost of the Rhinoplasty — Dr. Kevin Sadati prides himself on his honesty and his reputation as a trustworthy ENT surgeon. On NoseJobRecovery.com, Dr. Kevin Sadati outlines the various factors that determine the cost of any rhinoplasty procedure. This fact sheet can help patients better prepare financially for their nose job procedure.
Rhinoplasty Recovery Information — In order to, best, prepare patients for the road to recovery that lies ahead, Dr. Kevin Sadati informs patients about what they can expect immediately after the operation. He also provides tips for preventing recovery issues prior to the operation. A comprehensive timeline is provided to show patients how long the recovery process takes, and what milestones they can expect along the way.
Nose Simulator— The innovative nose simulator allows patients to upload a photo of themselves and see what their facial profile would look like after a rhinoplasty procedure. This gives patients a better visual idea of what their results might be after working with Dr. Kevin Sadati.
"I encourage anyone who is interested in a nose job to do their research prior to making this important life decision. NoseJobRecovery.com allows patients easy access to some of the most valuable information about the rhinoplasty procedure and the subsequent recovery process," stated Dr. Kevin Sadati.
People who are interested in having a nose job performed by Dr. Kevin Sadati are encouraged to set up a free cosmetic consultation after they have completed their personal research about the procedure. At this appointment, Dr. Kevin Sadati will perform a physical evaluation and determine if the patient is a good candidate for this cosmetic surgery. He will finalize the appointment by creating an individualized surgical plan for the patient.
For more information about NoseJobRecovery.com, contact Dr. Kevin Sadati's office today.