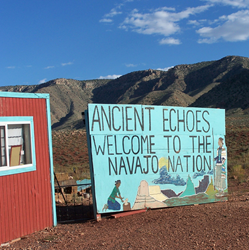 Many people appreciate the beauty of Navajo turquoise but they don't know they incredible history of the stone.
(PRWEB) August 02, 2013
Today, Navajo turquoise is considered a popular jewelry gem. It's a gemstone representative of many things, and reveals much of the Navajo nation. The turquoise promotes health, joy and luck, and is considered to be highly indicative of Native American culture.
Now, a new website is delving deep into the incredible origins and history of precious Navajo turquoise.
"Many people appreciate the beauty of Navajo turquoise but they don't know the incredible history of the stone," says NavajoTurquoise.net spokesperson Tanya Silva.
The utilization of turquoise within jewelry began in the late 1800s, when the Navajo people learned to create jewelry using silver-smithing. Silver-smithing knowledge was acquired from the Spanish, and—once they'd honed their skill—the Navajo learned to create jewelry featuring both silver and Navajo turquoise. The Navajo originally used crude tools for jewelry creation, but—in time—they obtained sophisticated methods of creation from travelers and traders belonging to other cultures.
The Navajo believed Turquoise stones possessed natural powers, and believed the stone's inclination towards divinity stemmed from its wide spectrum of coloration. Many jewelry pieces at the time utilized Navajo turquoise, and featured horseshoe –shaped rocks. This shape was symbolic of the Naja, which was greatly important to Mexico. The Naja—it was believed—represented good fortune. The two most known types of jewelry utilizing Navajo turquoise are squash bottom necklaces and turquoise-inlaid rings. Squash blossom necklaces feature the Naja symbol, and often incorporate it into a turquoise and silver pendant.
"Due to tourism and trading," says Silva, "the Navajo have created many jewelry pieces, and have included turquoise across many types."
Precious Navajo stones are different across subcultures, and modern jewelry has been adapted from its traditional style. Traditional jewelry utilizing turquoise normally features a large amount of
turquoise beads, and includes small portions of silver.
"Many modern Navajo jewelry pieces don't feature traditional styles and settings," says Silva, "and often don't reflect original Navajo culture. It's difficult to find original designs, but the modern jewelry designs are pretty close. You can still find hidden meaning in their style and symbolism."
The widespread desire for Native American jewelry increased demand for turquoise. Today, a detailed Navajo necklace created from turquoise is seen within elaborate gatherings and ceremonies. It's not uncommon to see turquoise-inlaid belts, nor is it odd to see turquoise infused within western-style ties.
Unlike many expensive gemstones—like sapphires and rubies—turquoise is both less expensive and equally as attractive. Jewelry, as well as other items, created with turquoise has become increasingly popular. With little to no effort, individuals might locate Navajo tribesmen, who can provide traditional Navajo jewelry.
For more information, please visit Navajoturquoise.net.