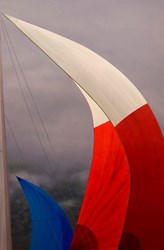 "The strongest aspect of Borstein's work is the gorgeous pastel colors infused with dark or light tones." Janet Koplos, Art in America
Philadelphia, PA (PRWEB) August 06, 2013
Award winning contemporary artist, Elena Borstein, created a unique body of work from 2007 - 2010, that departed from her signature architectural paintings to bring her artistic investigations of light and form and the animated interaction of the two, to the world of sailboat races and regattas along Lake Champlain. The Sail paintings are on view at the Seraphin Gallery Summer Show through the end of August, at 1108 Pine Street, Philadelphia, PA.
"The strongest aspect of Borstein's work is the gorgeous pastel colors infused with dark or light tones." notes Janet Koplos, of Art in America.
"Borstein's space is empty and serene, filled only with the radiant light and the absence of sound," observes Nina French-Frazier, of Art International, equally describing the artist's trademark architectural works and the new Sail paintings that are the distillation of Borstein's adventures racing aboard sailboats and yachts.
Elena Borstein crews on boats from small J/24's to yachts over 50'. A clear blue sky, a brisk wind and a frosting of whitecaps as the signal goes for the start of a sailboat race on Lake Champlain. Cries of "Starboard" are heard as two boats vie for position and one skipper declares his right of way to prevent a collision. On the boats themselves even saltier language resounds, exhorting crewmembers to winch in the sails or shift their weight as skippers and tacticians look for every advantage in their search for the lay line, or most direct path to the first mark. Strong winds make for fast races demanding steady nerves and split second decisions, while light breezes or changeable conditions require concentration and judgment that can inch the boat forward to the finish line.
Back in her studio the artist captures the changing light and weather in her paintings. Borstein's Sail paintings can be seen in the Summer Shown at Seraphin Gallery, 1108 Pine Street, Philadelphia, PA. (215) 923-7000, seraphin(at)seraphingallery(dot)com.
Information about Elena Borstein: http://www.elenaborstein.com/
Elena Borstein currently lives and works in New York City and the Adirondack Mountains. Born in Hartford, Connecticut, she received her B.S. Degree in Fine Arts from Skidmore College and her B.F.A. and M.F.A. degrees from the University of Pennsylvania. She is Professor Emerita of York College, CUNY.
Borstein's work is included in numerous major collections including: the Museum of Modern Art, NY; Hayden Museum, MIT, Cambridge, MA; Neuberger Museum, Purchase, NY; Everson Museum, Syracuse, NY; Newark Museum, Newark, NJ. Her work has also been in many solo and group exhibitions both in this country and abroad including: "American Realism" at the San Francisco Museum of Modern Art, 3 shows at the Bronx Museum and "New Acquisitions" at the Everson Museum, The Herbert F. Johnson Museum and the Museum of Modern Art and she exhibited at McNay Art Institute in San Antonio, TX.
She was part of the Washington D.C. Corcoran Gallery's traveling exhibition called "The Liberation - 14 American Artists" which traveled to 11 countries. Borstein is the recipient of a Purchase Prize from the American Academy of Arts and Letters.
Throughout the 70's, 80's, and 90's Borstein traveled to Greece and throughout the Mediterranean, where she was captivated by the light and simple geometry of the houses. In 1987 she traveled to Cuba and has returned many times since. For the last ten years Borstein has been living in the Adirondack Mountains.
She is currently represented in New York City by the Andre Zarre Gallery at 529 West 20th St, NY, NY 10011 (212) 255-0202 and Atea Ring Gallery, 236 Sam Spear Road, Westport, NY 12993 (518) 962-8620.
For more information and interviews, contact: elenaborstein(at)charter(dot)net. http://www.elenaborstein.com
About Seraphin Gallery:
Seraphin Gallery is a contemporary art gallery in Philadelphia, located 3 blocks east of the Avenue of the Arts and the Kimmel Center at 1108 Pine Street. (215) 923-7000 Gallery hours are: Wed- Sun 11-6 Mon-Tues by appointment Judith Seraphin seraphin(at)seraphingallery(dot)com.