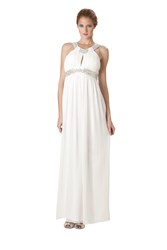 San Francisco, CA (PRWEB) August 05, 2013
Weddington Way, the premier online boutique for bridesmaid dresses and bridal party fashion, is introducing Special Occasion dresses for brides.
The new category helps brides find exclusive designer dresses for all the important occasions around their wedding - from engagement party and bridal shower to bachelorette party and rehearsal dinner. Brides can find a carefully curated selection of chic, trendy cocktail dresses from popular designers Kirribilla and JS Boutique.
"Brides who use Weddington Way to find cute bridesmaid dresses now want something for themselves as well," said Ilana Stern, CEO of Weddington Way. "That's why we created a Special Occasions category that gives brides a place to find dresses for everything from the engagement all the way to their honeymoon."
In early 2013, Weddington Way expanded its bridesmaid shop to offer brides a selection of little white dresses. With the addition of a Special Occasions category, brides can now add a pop of color to celebrate the road to their nuptials.
"Whether celebrating a bridal shower in the garden or having a formal rehearsal dinner in a restaurant, brides should feel beautiful on every occasion that leads up to their big day," said Phoebe Davison, cofounder of Kirribilla who worked with Weddington Way to select the best of the brand's cocktail dresses. "We're very excited to offer these dresses to the Weddington Way brides."
Weddington Way plans to expand the selection of special occasion dresses to other exclusive designers in the future. The Special Occasion dresses can be found on http://www.weddingtonway.com/all/special-occasion-dresses.
About Weddington Way
Weddington Way is an online boutique that offers the modern bride a highly curated selection of top brands in wedding party fashion. Its extensive collection of bridesmaid dresses, accessories, special occasion dresses for brides and ties for grooms and groomsmen makes it easy to shop for the entire bridal party in the bride's perfect palette. With a complimentary personal stylist to help with finding that perfect dress and an online showroom that allows brides to coordinate with bridesmaids all across the globe, shopping for the big day becomes easy, fun and most importantly, stress-free – the way it should be. More information can be found on http://www.weddingtonway.com.