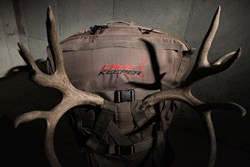 I used the Cape Keeper to pack out an elk this year, and it worked perfectly," said Nate L. of West Jordan, Utah. "It distributed the weight in all the right places. Also the straps kept everything tight, so there was no movement.
South Jordan, Utah (PRWEB) August 05, 2013
For a limited time, the dream bag for hunters wanting to keep their trophies safe is now 50% off.
"Our goal is to have a Cape Keeper on every hunt this year," said Brock Hadley, a spokesman for Cape Keeper. "Cooling down the cape properly and keeping it cool during the trip to the taxidermist gives hunters a better chance of keeping their capes and avoiding having to buy a replacement cape."
Earlier this year, Cape Keeper launched its product at the Western Hunting & Conservation Expo, where it received a tremendous response from hunters, taxidermists and retailers. Since then, customer response to the Cape Keeper bags has been overwhelmingly positive.
"I have been on thirteen limited entry trophy hunts in five years. I used the Cape Keeper for the first time this year. It performed perfectly," said Nick J. of Bluffdale, Utah. "It kept the cape clean and cool during the pack out, the ride to camp and all the way to the taxidermist. My taxidermist was so impressed with how clean and cool the Cape Keeper kept my hide that he is going to recommend all his clients get one."
For the month of August, the Cape Keeper bag is now available for a sale price of $124.95. That's 50% off the retail price of $249.95, and also includes free shipping. And using the Cape Keeper will save you even more money while helping conserve wildlife.
"When you lose a cape to hair slip or rope burn, you must purchase a replacement cape from the taxidermist to mount your trophy," explained Hadley. "Not only do replacement capes cost hunters money and waste capes of other animals, having to buy a replacement cape means the original cape is gone forever and won't be on display with the mount."
The Cape Keeper has a unique, patent-pending design that helps hunters properly cool down their capes using ice from their coolers or instant ice packs. The bag also protects the cape from dirt, rope burn, direct sunlight and other elements.
If you've been looking for a way to protect the cape on your next hunt, look no further than the Cape Keeper, and with this limited time offer, now's the best time to buy. So do all you can to preserve your original capes and get your next trophy on your wall. http://www.CapeKeeper.com