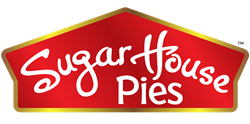 More flavors cater to the wants of more consumers.
Salt Lake City, Ut (PRWEB) August 02, 2013
The bakers at SugarHouse have been churning out delicious, home style flavors for decades. No matter the event or season, the pie manufacturers come through with tastes that showcase their years of experience. Renowned for both their Bake & Serve and Thaw & Serve fruit pies alike, SugarHouse is committed to bringing the taste and quality that their customers have come to expect straight to the kitchen table.
The local-favorite dessert suppliers have recently unveiled two new flavors for the upcoming holiday season. Along with their tried and true favorites, such as Lemon Meringue, Pumpkin, and Dazzleberry, Sugarhouse is presenting Caramel Apple and Sea Salt Caramel French Silk.
As always, Sugarhouse prides themselves on quality and tasty desserts to "stop your shopping cart". The expert pie manufacturers have stayed at the top of their industry because they have stayed true to their "old fashioned" methods throughout the years. They use only the most flavorful ingredients, and craft each lattice and meringue peak by hand.
Quality and taste are standard in all SugarHouse fruit pies. The dessert suppliers' mission is to deliver home style baked goods "without the fuss" to their customers. The Sea Salt Caramel French Silk, a lighter flavor with a medley of complementary tastes, is the perfect addition to any dinner table. The new Caramel Apple has the same delicious cinnamon-apple filling that SugarHouse customers have grown to love, but is topped with a cinnamon crust crumble and drizzled with caramel.
SugarHouse pie manufacturers have become local favorites due in no small part to their attention to detail and their commitment to quality pastries. Their recipes are based on tradition and a pledge to excellence. SugarHouse is proud to welcome their new Sea Salt Caramel French Silk and Caramel Apple flavors to their already enticing family of fruit pies, including Red White & Blue Lattice, Banana Cream, Coconut Cream, and the Four Seasons. Though SugarHouse bakers pride themselves on tradition, they bring the same attention to detail and commitment to excellence in each new flavor they create.
SugarHouse has proven to make any holiday party special time and again. With the melt-in-your-mouth texture of the Sea Salt Caramel French Silk and the cinnamon crumbs on the Caramel Apple, these new holiday flavors will be sure to have holiday guests calling for seconds. Both flavors are set to become instant classics from the bakers. For additional flavors, order information, and company information visit Sugarhouse online at http://www.sugarhousepies.com.