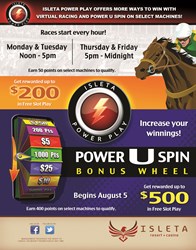 Albuquerque, NM (PRWEB) August 13, 2013
Isleta Resort & Casino knows that the loyalty of their players is everything. The partnership with Bally's Elite Bonusing Suite™ allows for the Isleta Power Play promotion to strengthen, and personalize player loyalty programs. The Isleta Power Play is entertaining and enhances with instant rewards making the experience even more exciting. They can now reward their players at the machine as they play.
The new Isleta Power Play slot technology will allow players to enjoy horseracing excitement with all of the other qualified Isleta Eagle Players Club Members. Power Racing will happen every Monday & Tuesday from noon until 5pm and Thursdays & Fridays from 5pm until midnight. Isleta Eagle Players Club Members can qualify on select machines only. Races will go off once an hour for a chance to win a share of $200 Free Slot Play.
Isleta Eagle Players Club Members will also be eligible to participate in Power Uspin. Everyday during regular business hours members can qualify by earning four hundred points. Once qualified to participate in this bonus, players can choose to play the Power Uspin at anytime to determine their prize. All prizes will load directly onto the Isleta Eagle Player's Club card.
Isleta Resort & Casino is always looking for the next thrilling way to energize their loyal players. The partnership with Bally's allows them to use technology to move in the right direction to benefit not only the gamer's experience but allow them to have another platform for promotions in real-time. It will allow for an interactive involvement that will be positive for all of players.
About Isleta Resort & Casino
More than a world-class travel destination, Isleta Resort & Casino is a lush oasis, high in the desert, above the crowd and beyond compare. Featuring a 6 story tower and a total of 201 guest rooms; approximately 100,000 square foot casino; a relaxing indoor/outdoor pool; 30,000 square feet of convention space; a 2,500 seat multi-purpose theater for concerts and sporting events; several restaurants; Center Bar; cocktail lounge and live entertainment. Steeped with native tradition and elegance, come feel the rhythm, absorb the energy and discover the essence of what a good time really is. Spread Your Wings. Rise Above the Rest.