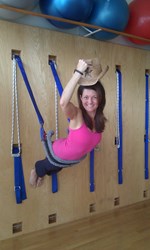 The rope wall offers support as you learn Yoga poses that can help prevent back pain.
San Diego, CA (PRWEB) August 06, 2013
Back pain got you on the ropes? That's a good place to be when you take part in the Yoga workshop, "Rope Tricks! And Other Nifty Tips to Help Your Back," being held on Sunday, August 25, from 10:30 a.m. to 12:30 p.m. at Radiance Yoga, San Diego. The Rope Tricks! Yoga Workshop, which is open to the public, will teach participants how to use the yoga rope wall to create space in the spine. Opening the spine helps relieve back pain, as well as neck and shoulder pain caused by arthritis, scoliosis and other spinal issues.
"This workshop is a great opportunity for beginners and experienced yoga exercisers alike to learn how to use yoga to prevent back pain, and what to do when things go wrong with your back," according to Aura Fechter, owner of Radiance Yoga, San Diego. "JoAnn's workshops are always a lot of fun, too."
The rope wall at Radiance Yoga is specially designed and constructed to anchor ropes that can be adjusted to make it easier to perform yoga poses. The ropes help support the body and give students the confidence to try new movements, as the natural resistance of the ropes releases connective tissue.
The cost of the Rope Tricks! Yoga Workshop is $35 for those who register before August 18, and $45 after August 18. The yoga workshop will take place at Radiance Yoga, 1612 W. Lewis Street, San Diego, California 92103. For more information, visit http://www.radyoga.com or call 619-299-1443.
About Radiance Yoga
Radiance Yoga and Therapeutic Exercise Center is one of the leading Yoga studios in San Diego County. Located in the charming and historic community of Mission Hills, Radiance Yoga was established in 1975 and continues to be family owned and operated, with classes seven days a week. They have an experienced and dedicated staff, many of whom have an extensive background in biomechanics, orthopedics, and Yoga therapy. Aura Fechter, A.T.C., R.Y.T. is the owner and director of Radiance Yoga Center.