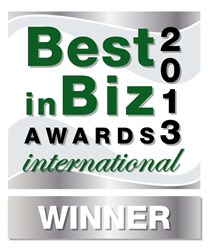 Any legitimate symbol of quality or seal of trust should raise conversion rates and EPC,
Boston, MA (PRWEB) August 08, 2013
Software affiliates may likely see their conversion rates raise if they are selling Boost Software's PC registry cleaner and PC optimization software. Boost CEO attributes it partly to the company's high placing in the Best in Biz Awards 2013. The company was awarded the silver trophy for Best New Company.
Other recipients of the Best in Biz Awards included Epson and Dell Software. As a winner for 2013, Boost Software will be able to display a Best in Biz International silver trophy icon on its website and sales pages. On the sales page it will accompany the Microsoft Partner: Gold image next to the Download button.
President and co-founder Amit Mehta feels that this award, in conjunction with Boost's status as a Microsoft Gold Partner, will help increase sales for affiliates. The product retails for $29.97 and pays out 75%-90% in per sale.
"Any legitimate symbol of quality or seal of trust should raise conversion rates and EPC," says Mr. Mehta. "Even customers who've never heard of Boost or Best in Biz will know it's important that we've been listed alongside companies like Dell. And they'll feel safe with us knowing we're a Microsoft-trusted partner."
Best in Biz Awards International honors businesses from 25 countries. Boost went up against 150 companies to be rated by a panel of 43 judges. Judges and contestants alike were representative of 25 nations and six continents.
Judges were drawn from publications and media outlets all over the world, and include writers and contributors to outlets such as Gizmodo, Lifehacker, TechTalk, the Vancouver Sun, the Toronto Post, the Jerusalem Post, and the Winnipeg Free Press (among others).
A list of winners can be viewed at the Best in Biz Awards 2013 International winners page.
"This isn't just some throw-away summer-time registry cleaner that will be on its way out as soon as you hit a good EPC," says Mehta. "Boost Software carries a Microsoft certification, which helps gain customers' legitimate trust. PC HealthBoost is definitely here to stay."
While Boost Software is new to these awards, its owners are not new to the affiliate space. Owners and co-founders Amit Mehta and Peter Dunbar were high dollar super-affiliates for years before they created their own software product to sell. They have spent the last two years testing and optimizing campaign materials for their product PC HealthBoost, a registry cleaner and PC performance optimizer.
PC HealthBoost is computer optimization software available for Windows XP through Windows 8. To learn more about joining the Boost Affiliates team and earn 90% commission, go to http://www.BoostAffiliates.com.