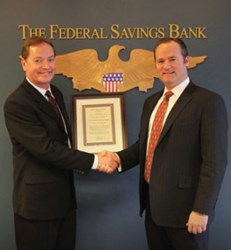 A down payment for a veteran is an options, not an obligation.
Chicago, IL (PRWEB) August 02, 2013
With countless home financing options out there, The Federal Savings Bank informs its prospective veteran applicants that it's important to understand and take advantage of the benefits involved with VA home loan.
"Other loans simply cannot compete with a zero money down payment which is offered specifically with VA home loans" says Nick, a Bank at The Federal Savings Bank.
Once a prospective homeowner establishes his or her VA home loan eligibility by obtaining a Certificate of Eligibility (COE), they can utilize a VA home loan to finance their home and reap the benefits that come with it. However, just because an individual has a COE, that does not guarantee that will be approved for a VA home loan. The "guaranty" refers to the Department of Veterans Affairs to repay the lender in full if the borrower defaults on the loan. Even though you don't need perfect credit, a VA home loan still employs comprehensive underwriting to ensure a homeowner does not default. There are still VA mortgage guidelines that must be met in order to be approved for a mortgage.
Down payments & mortgage rates
While there are some service requirements that must be fulfilled in order to obtain a VA home loan, it does not require a down payment unlike many other mortgage loans that require at least a partial down payment. Long considered to be the best of the benefits of a VA home loan, a down payment for veterans is an option, not an obligation. Almost all VA home loans are approved without a down payment. This benefit stems from the military's position that, as a service member returning from active duty, a down payment may take time to save up.
Conventional mortgages require either premium credit scores, a down payment of 20 percent or larger, or both in tandem, to score low interest rates. The same does not apply to VA home loans. It is very common for VA home loan interest rates to be lower than conventional mortgage loans with 5 percent down. Of the loans that are approved with little to no down payment, interest rates are often higher, resulting in the borrower paying more money for the home over time. Not to mention, conventional mortgage require mortgage insurance - a few hundred bucks thrown on top of the monthly mortgage payment. Until 20 percent equity is built up by the homeowner, mortgage insurance is required. VA homes loans require no such mortgage insurance, as the VA already vows to repay in case of a default.
Contact The Federal Savings Bank, a veteran owned bank, to discuss VA home loan eligibility and other low cost mortgage options.