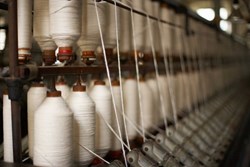 Burbank, CA (PRWEB) August 05, 2013
USA Business Insurance is announcing that General Liability Insurance in addition to Business Owners Policy (BOP) can be written for any size firm that works within the Textile Industry. This coverage is not limited to specific manufacturers but is open to companies that manufacture and produce thread, fabrics, rugs and carpets. It is also open to apparel manufacturers and finishing operations.
Textile and apparel manufacturers experienced quite a few setbacks during the economy slowdown but the times are changing and end users are demanding more inventory. Textile product manufacturer insurance will protect the company with general liability insurance that covers claims and law suits by customers who have been injured when visiting the insured's place of business or who have been hurt by a product the insured has sold. Now that the manufacturers are gearing up for increased productivity, having to pay for legal feels and judgments out of operating funds could ruin a company financially. With the correct insurance coverage, the business owner has complete peace of mind.
One of the great advantages of this new program for textile manufacturers is that the policy grows as the company grows. Additional coverages are extended to protect high-tech equipment used for business production. If the manufacturer adds a second or third location to its portfolio, the new locations are automatically covered for a specified time period.
Another benefit of general liability insurance is that it covers the business owner from law suits and awards based on sub-standard materials purchased from a third party, and damages that the finished product causes because of defects that were detected well after installation. It also covers legal fees in those instances when the policy holder was judged not to be at fault.
In addition to general liability insurance for textile manufacturers, business owners should also consider a Business Owners Policy (BOP). Whereas liability insurance covers customers, a BOP policy will protect the textile manufacturer and its assets. Should a building burn down and all inventory ruined, the BOP will cover buildings and contents. It will cover expensive hardware and software used to run the lines. It can also cover loss of income when production has been interrupted.
To learn how to protect any manufacturer and service provider in the textile industry, visit http://businessinsuranceusa.com/textile-manufacturer-business-insurance.
About USA Business Insurance:
USA Business Insurance writes general liability insurance and Business Owners Policies for businesses of every size across the country. Specialists and underwriters are available to analyze and discuss specific needs.