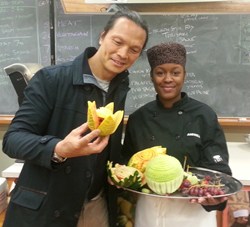 It is important to inspire a love and appreciation for food in order to create healthier outcomes for young people.
Toronto, Ontario, Canada (PRWEB) August 06, 2013
Internationally acclaimed chef and restaurateur, Susur Lee, is hosting a student workshop at Lee, his restaurant in downtown Toronto. The session, organized by local nutrition initiative My Food My Way as part of its Ambassador Program, is part of a series of workshops that are meant to help students identify ways to improve the food experience in their school cafeteria.
Susur Lee has built a solid reputation in the international culinary scene with his signature style of sophisticated fusion cuisine and currently owns two restaurants in Toronto, Lee at 601 King Street West and Bent at 777 Dundas Street West. He also received widespread exposure as a contestant on both the Iron Chef America and Master Chef: Masters television series.
Lee has been a champion of My Food My Way since its inception last July and regards his involvement with the campaign as integral to the nutritional health of students. "It is important to inspire a love and appreciation for food in order to create healthier outcomes for young people."
The primary goal of the My Food My Way Ambassador Program is to engage the student population of Toronto and use their input and enthusiasm to drive the campaign. Its pilot school is Thistletown Collegiate Institute, a north Etobicoke high school with a teaching kitchen and a strong culinary program under the guidance of teacher and chef, Keith Hoare.
"By giving students ownership over the campaign, we are hoping to implement changes that can act as their legacy to future generations." said John Weatherup, President of the Toronto Education Workers (TEW). The TEW is the union spearheading the My Food My Way campaign jointly with the Toronto District School Board as part of their Healthy Learning Healthy Living initiative.
My Food My Way continues to develop its program to "change the culture of food in Toronto's homes, schools, and communities" with a wide range of endeavours that include the Ambassador Program, as well as a Recipe Lab Innovation Project, an Urban Farming Innovation Project, and a partnership with popular foodie event Abbey's Kitchen Stadium.
"We've developed a multi-faceted campaign that strives for long-term and sustainable change," stated Ahmad Ktaech, Managing Director of K+CO, the communications agency behind My Food My Way.
For more information about My Food My Way visit: http://www.myfoodmyway.ca
For more information about Susur Lee visit: http://www.susur.com