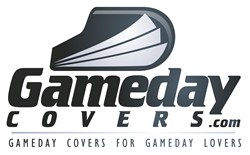 Atlanta, GA (PRWEB) August 05, 2013
Gameday Covers launched their website, allowing for sports fanatics all over America to purchase team car side view mirror covers online.
"We offer officially licensed, NFL, NCAA, MLB and NHL side mirror covers," said Sue Allpass, President of Lifesong LLC, parent company of Gameday Covers.
"We wanted to offer sports enthusiasts a product that allowed them to show off their team spirit with an unobtrusive, more streamlined look than some existing car decorations. Fans can leave these covers on all season since they allow for normal mirror use, or quickly remove them since they slide off and on easily and fasten with Velcro," said Allpass.
Gameday Covers offers covers in two sizes: small to fit most cars and small SUV's and large to fit larger SUV's and trucks. There are about 80 team logos currently available.
"In addition to licensed team logo covers, we offer custom designed covers to act as 'mini billboards' for customers to express themselves, including: corporate promotions, holiday themes, slogans, recreational team pride, country flags, whimsical designs, and anything else that can be dreamed up," said Allpass.
Launched in 2011 by two female sports fans in Atlanta, Gameday Covers designs affordable and user-friendly, officially licensed NFL, NCAA, MLB and NHL car side view mirror covers, as well as custom designed covers. Gameday Covers are easy to slide on, maintain normal mirror function, and do not alter the aerodynamics of your vehicle. Gameday Covers prides itself on excellent customer service, in addition to offering a patented, unique, high quality product to consumers. For more information about Gameday Covers for Gameday lovers, please email info@gamedaycovers.com, call 877.554.5954, visit http://www.gamedaycovers.com, follow us on Twitter @gamedaycovers, and like us on Facebook http://www.facebook.com/GamedayCovers.
###
If you'd like more information about this topic, or to schedule an interview with Sue Allpass, please call Sue Allpass at 404/518-7344 or e-mail Sue at sue(at)gamedaycovers(dot)com.
Contact: Sue Allpass
Phone: 404/518-7344
Email: sue(at)gamedaycovers(dot)com