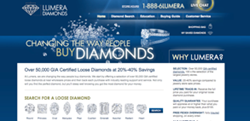 St. Louis, MO (PRWEB) August 06, 2013
LumeraDiamonds.com, a leading retailer of loose diamonds, announces its exciting new Pay Later program.
Pay Later gives purchasers the option to receive their order prior to final payment; a unique offer in online shopping. Every diamond purchased using a credit card and shipped within the U.S., is eligible for the Pay Later option. Customers interested in buying a loose diamond would start by finding a diamond of interest on lumeradiamonds.com, or by working with a Lumera consultant. The purchaser then uses a credit card to initiate the transaction online. Once the diamond is received, the customer has three days to review the diamond and decide if they would like to keep it. If they choose to keep their diamond, their card is charged on the third day after receipt. If they decide to send the diamond back, they can do so without ever incurring a charge. This means there is no need to wait for a refund after the diamond is mailed back.
"Buying GIA diamonds, or any high value item online, can create a lot of anxiety for the purchaser. We have found this to be the number one reason customers elect to buy from local jewelers, paying significantly more for lower quality diamonds than what is available from Lumera. Now, in addition to having access to trained consultants to guide each purchase, our customers can rest assured knowing that they don't have to make a final decision until they have the diamond in their hand. They can even take the diamond to their local jeweler and put it to the test before buying." said Joe Brehob, President of Lumera (http://www.lumeradiamonds.com/).
LumeraDiamonds.com is able to make this unique offer due to its exceptionally low return rate. Primarily a result of the close interaction between consultants and customers prior to purchase, the return rate on Lumera orders is less than 2%, a fraction of what is typical for other online jewelers. By working hard to make sure the right diamond is chosen the first time, the potential cost of allowing customers to receive a diamond prior to payment is greatly reduced. In fact, Lumera consultants are not graded or compensated on sales at all, but instead on customer satisfaction, which is measured in part by return rates. This aligns the objectives of both consultant and customer, dramatically increasing the likelihood of a positive outcome.
In addition to working with experienced diamond consultants, customers can perform a diamond search online, or do their own research using Lumera's extensive education and buying guides. These resources offer straightforward, but detailed guidance not only on the four C's of diamond buying, but also how to avoid the most common diamond purchasing mistakes.
Lumera offers over 50,000 diamonds, each one GIA certified, and accompanied by a lifetime guarantee, free appraisal, and 30-day return policy. And now, with the Pay Later program, the offer is even better.
ABOUT LUMERA DIAMONDS:
Lumera Diamonds sells GIA certified loose diamonds through http://www.lumeradiamonds.com. Every diamond is backed by an exclusive Quality Guarantee, Lifetime Trade-in privileges, and a written appraisal. Lumera was founded with the mission of promoting both transparency in the diamond business and education for the consumer; eliminating the mystery and anxiety that often accompanies the purchase of diamonds and jewelry.