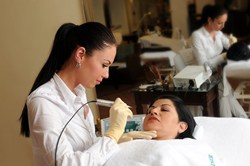 The Beverly Hills salon now offers hours up to 8 PM on Wednesdays, starting this August 7th, 2013.
Beverly Hills, CA (PRWEB) August 05, 2013
For clients who have busy work hours but would like to have their semi permanent make-up done, they will be happy to know that Long-Time-Liner® Beverly Hills now offers hours up to 8 PM on Wednesdays, starting this August 7th, 2013.
On Wednesdays, the store will open at 10 AM as usual, and will be closing at 8 PM to provide for clients who'd like to book for an appointment after the regular 6 PM closing time. Clients wishing to make a later appointment must make the appointment in prior, they do not talk late walk-ins. These hours are exclusive to the Beverly Hills salon.
Other special offers from Long-Time-Liner® include eyebrow shaping, now offered for $15 to September (regular price is $25). Other deals include the "like" and "share" Long-Time-Liner® USA Inc.'s Facebook page to be entered to win a free service at the Beverly Hills Salon! "Share" every day on a friend's wall to increase chances. This is a limited time offer and expires September 30th, 2013.
Long-Time-Liner® is located in Beverly Hills, California, at the heart of the beauty and luxury product center. There have been many beautiful and satisfied customers from all age groups, nationalities and personal style. Semi-Permanent Conture® Make-up can make a significant improvement to anyone's beauty. Contact the salon for more information and to book a consultation!