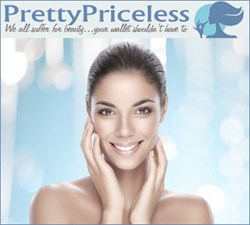 We all suffer for beauty ... your wallet shouldn't have to.
(PRWEB) August 05, 2013
Beauty does not come cheap. But it doesn't have to break the bank, according to PrettyPriceless, a unique rewards-based website that gives members the chance to earn makeup without having to pay a cent.
The users of the website, which launched in June, earn PrettyPoints by participating in surveys, referring friends and engaging with sponsors. They can then redeem those points for their favorite beauty products. Members can choose from among thousands of items, thanks to a partnership with Beauty.com and Drugstore.com. So that lipstick you bought last week can be the last one you pay for.
There is no cost to join the online service. There is not even a charge for shipping.
This site is for the woman who can't have too many lipsticks, wears a different blush for every day of the week or needs to own every shade of nail polish. It is also for those who only require a bit of basic mascara and lip gloss. Whoever she is, PrettyPriceless understands that its members are not just a pretty face; they are smart, too. That's why they are earning free cosmetics instead of paying for them.
Here's how it works: Once a user registers for an account, she can browse the products, select items she would like to earn and then save them to her wishlist. If she wants a lipstick that requires 50 PrettyPoints, she will complete offers until she has amassed enough points. At that time, she can "order" the lipstick. In a couple weeks or less, the lipstick will arrive at her doorstep.
In an effort to add more ways for members to earn points, PrettyPriceless will soon offer a way for members to be awarded points for simply shopping through the website. The company also sponsors giveaways through its own Facebook page and in partnership with various bloggers.
PrettyPriceless is brought to you from a wife and husband team consisting of a makeup junkie and an Internet marketing professional. The concept arose from an article a couple years ago describing how nail polish was the new "lipstick index." The term, coined in 2001 by Leonard Lauder of Estee Lauder, refers to the uptick in cosmetic sales during times of economic distress.
Regardless of the economy, PrettyPriceless understands that everyone loves their little luxuries; and makeup appeals to women of all ages, races and socioeconomic levels. That is why the company says: "We all suffer for beauty ... your wallet shouldn't have to."