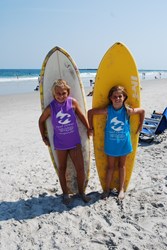 It's good for girls at this stage of surfing to see what the possibilities are
Wrightsville Beach, NC (PRWEB) August 04, 2013
Julia and Madeline Eckel are quintessential Wrightsville Beach wahines, (wa-hee-nees), a Polynesian word meaning surfer girls. The Eckel sisters have only to cross South Lumina Avenue to surf Wrightsville's waves but as members of the Eastern Surfing Association (ESA), Julia 13 and Madeline 11, have surfed competitively up and down the East Coast from Maryland to Florida, racking up points that qualified them to surf the ESA regionals in Ocean City, Maryland. Last week, Julia was surfing in El Salvador with her dad, Brian Eckel.
As a family of six, everyone, including their brother Web, 8, and sister Lucy, 6, is passionate about surfing says mom, Carroll Eckel. Five years ago, her older girls were guppy novices taught to surf by Jo Pickett. Last week Julia Eckel outscored Pickett in a shortboard heat. This month, Lucy Eckel will join her sisters as a guppy novice, and wahines of all ages, in the Wrightsville Beach Wahine Classic, at the Crystal Pier on Saturday and Sunday, Aug. 17 and 18. Blockade Runner Beach Resort will serve as host hotel.
Named one of 2012's top 20 surf towns by National Geographic Magazine, Wrightsville Beach will welcome regionally and nationally ranked amateur contenders from the Outer Banks, South Carolina and Florida, and this year, some pros.
Organizers Jo Pickett and Jack Viorel say, "We will have an elevated skill beyond what the girls in Wrightsville Beach usually see. Girls have come into their own in the last five years showing their competitive edge by surfing aggressively in the traditionally male-dominated sport. It's good for girls at this stage of surfing to see what the possibilities are."
Wrightsville Beach Wahine Classic head judge, Liz Hauser, is a Wilmington, North Carolina, native who Pickett also taught to surf at age 8. Now a resident of Puerto Rico, Hauser is a judge for the Asociacion Profesional de Surfing de Puerto Rico.
Registration deadline for the Wrightsville Beach Wahine Classic is August 12.
Surf events include a competitive guppies division, age 12 and under, and the teenie wahine division age 10 and under, with support person. "They're so cute," says Carroll Eckel. "They wear life preservers and goggles and their mommies and daddies can push them in to shore."
Taking advantage of Wrightsville's reputation as a SUP hub, the Wahine Classic will introduce two standup paddleboard events – a race and standup paddle surf. Qualifying heats in all contests begin Saturday, Aug. 17 with finals on Sunday, Aug. 18. Jarrod Covington, Wrightsville Beach Biathlon Champion, held in March each year at Blockade Runner Beach Resort, will coordinate SUP activities.
Following the Wahine Classic, Surfers Healing returns to Wrightsville Beach on Monday, Aug. 19. Registration is full, but families will want to witness this uplifting event. Founded in California by professional surfer Izzy Paskowitz , Surfers Healing shares the unique therapy of surfing with children with autism. Wrightsville Beach is one of only 14 locations on the 2013 U.S. and Canadian tour.
Accommodations:
Blockade Runner Beach Resort
http://www.blockade-runner.com
Information and Registration:
Jo Pickett, Co-chair
Crystal South Surf Camps
(910) 465-9638
http://www.crystalsouthsurfcamp.com
Jack Viorel, Co-chair
Indo Jax Surf Charities
(910) 274-3565
http://www.indojaxsurfschool.com