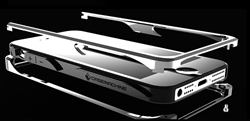 Miami, FL (PRWEB) August 05, 2013
Casemachine announced the Berlinetta case for Apple iPhone 5 earlier this year through its social media portals. The president of the company welcomed the Berlinetta to the Casemachine family of elite smartphone accessories in the following words: "I, on behalf of all the wonderful craftsmen and technical design engineers of Casemachine, present to you the new Berlinetta case for Apple iPhone 5."
He continued saying, "The Berlinetta is nothing but one smartphone accessory perfected, let me assure you that! We, as a team, are committed to doing only one thing – innovating the way people use their smartphones. The new Berlinetta case is a pure example of how Casemachine will be able to do that."
The Berlinetta case is an all-aluminum hybrid for the Apple iPhone 5. Despite the prior reports suggesting that iPhone 5's glass shields contain fragile antennas which are sensitive to metals, Casemachine's design engineers went forward with aluminum and guarantee that the Berlinetta will have zero impact on signal reception and data transfer speeds.
The company's senior design engineer explained the innovation behind the new Berlinetta case for Apple iPhone 5 by saying, "Aluminum is probably a nightmare for the iPhone 5 and we used it to make a case for the phone so that in itself speaks of how much Casemachine loves to create innovative products. What we did was that we designed an all-aluminum hybrid which would have silicone housing in it that doesn't let the aluminum touch or impact the iPhone's antennas in any possible way. The housing does its job as the sleep/awake button, the volume switch as well as keeping the aluminum from touching the antennas of the iPhone 5."
Independent tests conducted at the Casemachine headquarters in Miami, Florida concluded that the Berlinetta case for Apple iPhone 5 does not impact signal reception or the phone's data transfer speeds. Casemachine guarantees that along with zero-impact guarantee, the Berlinetta will also provide unmatched protection and compelling details to the iPhone.
The aluminum used on the Casemachine Berlinetta case is CNC machined aircraft grade rust-proof billet aluminum which is used in quality metal products. This ensures that the case withstands all sorts of scratches and accidental falls and stays scratch-less irrespective of the impact. Casemachine has released the Berlinetta in various rich shades which are electroplated to provide an exotic feel to the touch.
The electroplated colors do not wear off from regular usage and prolong the life of the case by providing it a fine, brushed surface which is completely scratch proof. iPhone users can now order the Berlinetta case through the official Casemachine store as the case is now being shipped to all parts of the world.
For further information regarding the Berlinetta case for iPhone 5, please head over to their official store at http://www.Casemachine.com.