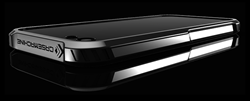 Miami, FL (PRWEB) August 06, 2013
The Miami based smartphone accessories maker Casemachine, LLC has recently released its all new Casemachine i5 Slimline v2 case for Apple iPhone 5. The Slimline v2 case is designed "for those who don't like cases on their iPhone," states Casemachine's official online store.
The company has used touch friendly silicone polymer on the new Slimline (v2). The silicone has enabled Casemachine's design engineers to keep a hyperfine width to the case thus successfully giving off a case-less feel of the iPhone 5. Casemachine's aim is to provide a tight grip through the usage of premium silicone material in the i5 Slimline v2.
The case is a snap-on silicone-aluminum hybrid. For the sides, Casemachine's design engineers have used CNC machined aircraft grade billet aluminum inlays which are highly impact elastic. The inlays also help in exuding racecar inspiration which basically fuel the Casemachine innovation. The silky smooth curves, the usage of premium aluminum and suede (for backplate) clearly proves how determined the company is to bring about something different and unique for patrons of exotic racecars.
To prove the impact elasticity of the new Casemachine i5 Slimline v2 case for Apple iPhone 5, the company conducted several tests at the Casemachine headquarters. Tests revealed how the premium silicone and the perfect StrechTight design innovation helped Casemachine in making a case which withstands far more vibrant shocks and movements than the competition.
Casemachine claims that the Slimline v2 hardly takes 2 seconds to slip on. The company has used polymer which does not grip onto fabric thus making the phone sliding in and out of the pockets a hassle. The polymer used easily slips in and lets the phone out without any problem, results state.
The Slimline v2 case for Apple iPhone 5 was also presented to the audience of the Las Vegas CTIA Show 2013. Casemachine received quite a response there from tech enthusiasts belonging to all parts of the world who left best wishes and notable compliments after the briefing.
Casemachine plans to further research and create different designer cases which look stunning to the eye and have minimal fluff or bulkiness. The Slimline v2 is now shipping to all parts of the world. iPhone users can purchase the case through the official Casemachine store at http://www.Casemachine.com.
For further information, please contact the customer support at 305-818-9933.