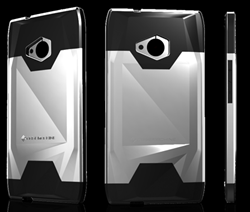 Miami, FL (PRWEB) August 07, 2013
Casemachine is a smartphone accessories manufacturer based out of Miami, Florida. The company is renowned for its innovative concepts and racecar inspired phone cases which provide a case-less feel to smartphone users while fully protecting their phones against all damage.
The company announced earlier this month through its official Facebook page that it will soon be releasing its very first case for HTC's latest flagship – the HTC One. The case will be codenamed the Casemachine CS1 Evolution Case which will be a slip-on polymer hybrid.
Casemachine has already provided details for the Casemachine CS1 Evolution Case for HTC One. The case will have fine, premium quality polycarbonate polymer and TPU (thermoplastic polyurethane) body which are aimed to provide a very tight grab on the latest HTC flagship device. The polycarbonate is used in the construction of the stylish outer shell which is to serve two purposes: that of adding a compelling and sleek look to the case and also to uphold the rear side of the CS1 Evolution case without letting it feel lose.
Casemachine had the following words to welcome the new Evolution case for HTC One: "We are proud to diversify our product portfolio and design something for the HTC One users. Our new Evolution Composite case is made of thick TPU with an interchangeable outer shell made of premium polycarbonate material to give the latest flagship a racecar inspired look. Coming on pre-order soon, the CS1 Evo case for HTC One."
Casemachine's president also shared his remarks on making a composite case for the new HTC One. In an interview conducted at the Casemachine headquarters, he said, "I'm very proud of the Casemachine team. We have now started offering elite phone cases for HTC devices, and let me assure you this is just the beginning – Casemachine has got way much more in store for HTC fiends! If you take a look at the Evolution Composite case, you will notice how easy it is to simply slip it on and completely change the way your HTC looks."
He added, "Of course, it was quite a challenge for our design engineers to come up with something for the most beautiful smartphone of the year. I'm just happy everything went according to expectations and we were able to compel HTC One users."
Casemachine plans to release a series of composite cases for latest flagships from all the market leaders. The company's engineering designers are also designing cases for the Samsung Galaxy S4, the Apple iPhone 5/5S as well as the iPad Mini.
The Evolution case will soon be available for purchase through the official Casemachine store. For any further information regarding the Casemachine CS1 Evolution case for HTC One, please follow Casemachine on Facebook at http://www.facebook.com/Casemachine.