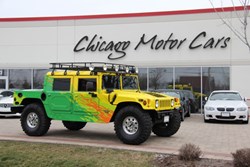 Chicago, IL (PRWEB) August 08, 2013
Chicago Motor Cars is an auto dealership which buys and sells pre-owned vehicles at discounted retail market rates to potential buyers. These include wholesalers, middlemen and independent vehicle buyers looking for a vehicle to satisfy their needs for daily commuting. The dealership holds one of the most diversified inventories offering bikes, cars, vans and trucks branded under some of the biggest names in the world.
CMC's vision is to purchase quality pre-owned vehicles, give them the necessary touch ups and sell them at discounted deals to provide customers true value for money. All the vehicles parked in the dealership's large showroom have successfully passed strict quality checks and performance benchmarks. Chicago Motor Cars looks forward to providing an exotic inventory lineup at some of the most discounted deals in the market.
The auto dealership's pristine inventory represents the staff's dedication and zero-tolerance policy towards performance and quality below par. Each unit is handpicked from the market by the expert inventory management personnel who have years of experience in searching for all possible signs of damages, blemishes and heavy wear-and-tear.
Each unit undergoes strict quality checks and is then scored on as per its condition. Detailed performance tests are carried out revealing the true potential of the pre-owned vehicle and then appropriate units are purchased and forwarded to Chicago Motor Cars' topnotch auto detailing crew.
The detailing crew dismantles the complete vehicle, provides for necessary touch ups and cleans each component, providing the vehicle the lost shine. The finished vehicle looks as new as possible, and is then parked in the dealership's elegant showroom.
Chicago Motor Cars believes in providing all sorts of automobile solutions under a single roof. The dealership now offers inventory on consignments, auto financing solutions, extended warranty plans, vehicle insurance covers, auto maintenance and detailing services – all under the same roof. CMC tries to act as "your one-stop shop to get your dream car converted into reality".
With mid-summer approaching, CMC now hopes to double its sales by employing a fully dedicated online team of branding experts. The dealership has also redesigned its website and added user-friendly search options to provide hassle-free search for the right vehicle.
Chicago Motor Cars has also received recognition for its hard work – the dealership is the six-time recipient of the eBay Motors Best Seller award, and last year, it crossed the $700 million mark in online sales revenues.
A satisfied customer wrote the following about CMC:
"The way these guys treat you the moment you enter the showroom is truly commendable. There is no way I would have purchased my first car from a dealership had these guys not been so welcoming. People really need to pay Chicago Motor Cars a visit before making up their minds about auto dealerships."
For further information on the dealership, contact their support staff at (630) 957-5100. You can also visit their website by following the link: http://www.chicagomotorcars-dealership.com/.