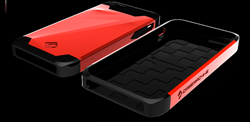 Tighter Grab, Easier Docking - The Sesto Evolution for Apple iPhone 5
Miami, FL (PRWEB) August 09, 2013
Casemachine has revealed plans to announce a complete Evolution series of phone cases which will be easy-to-slip-on TPU-Polycarbonate hybrids. The Sesto Evolution case will be a slip-on hybrid for Apple's latest flagship phone, the Apple iPhone 5.
The company's chief mechanical design engineer stated that "Casemachine's products only signify one thing; elite protection and outstanding dependability." He also revealed that each design takes over 100 man hours to perfect and fit snug on the Apple iPhone 5 and how Casemachine is committed to only bring out-of-the-box concepts and designs for smartphone users to elevate their overall user experience.
Casemachine has also stated that the Sesto Evolution case will have an interchangeable outer shell made out of polycarbonate polymer. The outer shell can easily be snapped on and off whenever needed thus allowing the users to choose whether a combination would suit their needs or a plain simple look. The snap-on polycarbonate outer shell will also be made available in different racecar paint codes coated off with automotive PPG coating for seamless finish.
Casemachine's vision to bring together only the best and most exotic materials for smartphone accessories has helped it assemble the all new Sesto Evolution case for Apple iPhone 5. The Sesto Evolution case, unlike the full body Sesto case having machined aluminum inlays, will offer a much tighter grab and grip on the iPhone due to its StretchTight TPU.
Casemachine is also providing a lifetime warranty with the new Sesto Evolution case. Upon purchase, users get certificate of authentication on original Casemachine products certifying that the purchase is the official product of Casemachine, LLC and the company provides lifetime warranty to cover all abnormal losses and/or damages.
A stylish curved look has been given to the polycarbonate outer shell on the Sesto Evolution case for Apple iPhone 5. The shell is responsible to hold the TPU body upright and provide a very tough feel to the touch. Casemachine has also engraved its official logo on the outer shell.
A soft touch and redesigned volume switch is used on the new Sesto Evolution case for Apple iPhone 5 which fully protects the phone's original volume switch from scratches and common impact. Casemachine has also left sufficient spaces around ports and the 3.5mm jack for easy third party docking which in turn helps elevate the overall user experience.
iPhone 5 users need not remove the Casemachine Sesto Evolution case to plug in popular branded headphones such as Beats by Dre or Skullcandy – Casemachine Sesto Evolution case has large access openings making third party docking easy and hassle free.
For further information on the Sesto Evolution case for Apple iPhone 5, please contact Casemachine customer support at 305-818-9933.