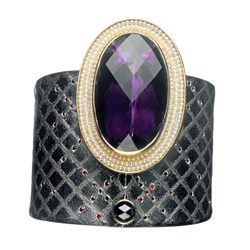 ...The name Zobel has stood for highly individual, bold and emotive jewelry of timeless beauty.
Santa Fe, NM (PRWEB) August 05, 2013
Patina Gallery is honored to present "Peter Schmid and Atelier Zobel Return," an exhibition with one of the world's most renowned jewelry studios. The Atelier creates jewels of exotic yet sophisticated elegance, combining platinum, high carat gold and oxidized silver with gems and rare stones. Schmid brings an exciting selection of 150 new works from the studio in Constance, Germany. Peter Schmid will be in the gallery August 12 through the 18th. The exhibition continues through August 25, 2013.
"Peter Schmid & Atelier Zobel Return" marks the 12th Patina exhibition for this renowned German jewelry design studio. The work of the Atelier has set a standard for art jewelry recognized by collectors around the world. Established by artist Michael Zobel, the studio has a refined signature all its own: organic, bold and highly modern. Peter Schmid continues the studio's tradition of mixed metal works set with unusual gems and dustings of tiny diamonds, and brings a new quality of refinement to the designs.
"For more than forty years, the name Zobel has stood for highly individual, bold and emotive jewelry of timeless beauty. The painterly quality of the surface textures, the free use of color and the playful tension between strong geometric form and sensual organic line continues to inspire our collections." Peter Schmid