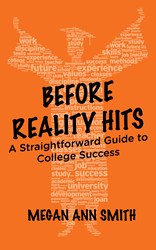 Lorton, VA (PRWEB) August 08, 2013
When it comes to creating opportunities for professional success, getting into college is just the beginning. Making the most of your college experience will pave the way to not only being employable, but also being well compensated. Megan Ann Smith is well-qualified to offer advice on how to get the most from college with the least expenditure: she was able to attend college, graduate a semester early, pay off her student loans in less than two and a half years, and complete her Master's Degree for free, all of which resulted in her being able to achieve her goal of a six-figure salary by the age of twenty three. Her new book, "Before Reality Hits: A Straightforward Guide to College Success," is an up-front, easy-to-use guide that provides college-bound students with the information and insight to make their college experience a successful and affordable starting point to a rewarding career.
From tactics to checklists, this comprehensive resource offers a realistic approach to optimize anyone's college years—before the reality of bills, student loans, and adult life hits. Current and future college students, parents of future college students, and anyone thinking about going back to school will find actionable, practical advice that can guide them from evaluating potential colleges through crafting a resume and beyond.
"Before Reality Hits" explains how to:

Understand the process of college applications
Gain insight on student loans, scholarships, and realistic budget concerns
Get credit for high school/other courses
Get ahead during freshman year
Find and secure worthwhile internships
Surpass the competition and become more marketable in the job force
Perfect resumes
Land that first post-graduation fulltime position
Identify where and when to attend graduate school
"Far too many students are graduating underemployed with very little hope of paying off their student loans in a realistic time frame. It's time that someone provides guidance to these students and helps them make educated decisions to avoid these circumstances and land careers they are interested in – "Before Reality Hits: A Straightforward Guide to College Success" does just that," explains author Megan Ann Smith.
Megan Ann Smith is an Information Technology Project Manager for a Fortune 500 company based in the Washington DC area. She has a Master's Degree in Intelligence Studies from American Military University and a Bachelor's Degree in Political Science and International Studies from Trinity University. "Before Reality Hits: A Straightforward Guide to College Success" shares the secrets of her success. The book is available for sale on Amazon.
###
For more information, or to schedule an interview, please contact Megan Smith at info(at)sallysueenterprisesllc(dot)com/303-548-8456.
Sally Sue Enterprises LLC is a small, woman owned business founded in 2013, currently focused on publishing. "Before Reality Hits" is the company's first publication. Sally Sue Enterprises LLC has plans to expand to consulting and technology in the future.