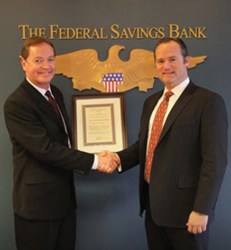 Chicago, IL (PRWEB) August 03, 2013
The Federal Savings Bank, an institution specialized in veteran loans, has been informing its prospective VA applicants that there are not enough VA clinics to serve our brave across the country. Some communities struggle to build new facilities and enhance existing centers to accommodate service members.
Santa Fe, New Mexico
In order to address the shortage of VA clinics in the U.S., the new U.S. Department of Veterans Affairs health clinic is planned to go up in the Soleras subdivision of Santa Fe between 2014 and 2015. William Armstrong, a spokesperson for the VA, said the 7,225-square foot community outpatient clinic will more than double the space at the existing VA health clinic facility located on 2213 Brothers Road, The New Mexican reported.
"The new clinic will allow us to expand the telehealth services we currently provide," Armstrong added. "Plans are in the works to add telehealth services such as ENT (ear, nose, and throat) in the near future. The bottom line is that this technology will reduce the need for travel to specialist services, thus increasing the quality and timeliness of care for our veterans."
Long travel times and access to specialists have been challenging to many veterans. The implementation of telehealth services will give veterans living in northern New Mexico a new level of access to healthcare without being bound by previous geographic constraints. Currently serving 2,264 veterans, the addition of the new facility as well as telehealth services will most likely increase the need for more staff at the facility as well as the number of veterans served.
"The facility will be designed with a layout conductive to health and healing, with a group space for treatment and education, including telehealth space, and the integration of primary, mental health and specialty care," said George Marnell, director of New Mexico's VA health care.
Lake Charles, Louisiana
The shift to expand services is a welcome addition for many veterans who are frustrated with long travel times and the lack of facilities. For instance, Deron Santiny, an Iraq War veteran who requires specialized care for a brain injury sustained from an IED, visits a 30-foot camper that sits in a Lake Charles, Louisiana parking lot that the VA employs as a "clinic." Referring to it as the "camper," the facility has one primary doctor and no specialists, according to CBS News.
In order to receive the specialty care he needs, Santiny says he needs to travel 90 minutes away to Alexandria, VA., or drive the three hours to see specialists in Houston, Texas. However, even the 30-foot trailer Santiny visits has been defunded by Congress.
"I think it's pretty pathetic," Santiny added. "Because you have guys that live here, fought for their country, did everything that was asked of them. And they come back and get seen in a mobile home."
The VA will commonly rent out space to run clinic outposts, such as the one in Lake Charles. However, the Congressional Budget Office designed that VA rental agreements as "purchases," sot he VA was forced to account for more than two decades worth of lease payments in this years budget - all because of an accounting discrepancy.
Contact The Federal Savings Bank, a veteran owned bank, to discuss first time home buyer programs and other low cost financing options including VA home loans.