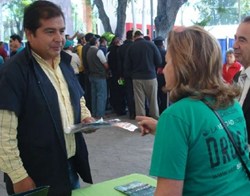 The planet has hit a barrier which prevents any widespread social progress—drugs and other biochemical substances.
Los Angeles, CA (PRWEB) August 03, 2013
Representatives of the National Scientology Organization of Mexico participated in a July 2013 conference organized by the Secretary of Health of Mexico City, making The Truth About Drugs booklets and audiovisual materials available to those concerned with drug education and prevention.
One of the most popular features of the volunteers' presentation was the Truth About Drugs public service announcements. Based on real-life situations and exposing the most commonly held myths about drugs, these 16 PSAs serve as compelling introductions to the program's drug education curriculum.
The National Scientology Organization of Mexico makes these materials available free of charge to parents, educators, law enforcement, community programs and religious groups who work with youth.
Scientologists on five continents work in their communities to empower others with the truth about drugs. The Church and its members are dedicated to eradicating drug abuse through education.
About The Truth About Drugs, Creating A Drug Free World Program
The Church of Scientology has published a brochure, Scientology: How We Help—The Truth About Drugs, Creating a Drug-Free World, to meet requests for more information about the drug education and prevention initiative it supports. To learn more or read a copy of the brochure, visit the Scientology website.
Scientology Founder L. Ron Hubbard wrote, "The planet has hit a barrier which prevents any widespread social progress—drugs and other biochemical substances. These can put people into a condition which not only prohibits and destroys physical health but which can prevent any stable advancement in mental or spiritual well-being."