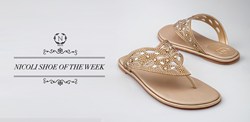 NICOLI epitomises "Red Carpet Luxury" without sky high prices
(PRWEB) August 04, 2013
Founded in Dubai, famed for fashionable, luxurious and exclusive limited edition crystal embellished shoe and handbag collections, NICOLI's iridescent shoe collection has now become an ultra-glamorous footwear choice not just throughout the GCC but also around the globe through NICOLI's online flagship boutique - http://www.nicolishoes.com The highly sought after world of NICOLI shoes and handbags creates the perfect accessory to life's most beautiful and memorable moments, intertwining true Arabian elegance with Hollywood glamor, Italian styling and French spirit.
With an amazing collection of over 200 limited edition styles in flats alone, NICOLI shoes are perfect for transitioning from day into the night, for every occasion and to go with any outfit. From ultra-luxurious evening sandals to perfect-to-slip-on pair of sparkly flats, or Swarovski crystal embellished high heels - NICOLI shoes add a perfect sparkle no matter if it's a cocktail dress, skinny jeans or a glamorous black evening gown! Specialising in ultra glamorous ladies' shoes,NICOLI includes it all - from futuristic styles to classic styles which are a wardrobe staple - from gorgeous siren heels to cutting edge pumps, and wow-worthy flats to name a few. The flairs and designs are an eclectic mix of metallic tones and consider the instincts and everyday needs of a practical life from stiletto heels to ballerinas, comfort shoes for work and play along with some tempting must-haves.
Keeping pace with the latest trends, new limited edition pieces are designed monthly in the United Kingdom by Anna Kitchenset, whose fertile mind creates diligently and gives NICOLI shoes a glamorous edge, making clients truely feel like they are a style icon. Whether it's the trendy silver crystal embellished butterfly sandal or daring green flower diamanté flat, for the ultimate collection of diamante shoes, one doesn't need to look any further!
At NICOLI, the focus is on providing every shoe aficionado with 'affordable luxury' which caters to the modern-day woman and is sure to satisfy her never ending thirst for fashion. Only the finest material, expert workmanship, and unique designs are used, making customers eager to come back for more "Red Carpet Creations" which exclude the sky high price tags.
Unveiling new concepts in luxury footwear, Anna's taste, imagination and panache have driven this storied label to even greater heights by attracting a varied clientele and offering them a complete NICOLI lifestyle. The NICOLI crystal embellished shoe and handbag collections epitomise Arabian elegance and Hollywood glamour by enhancing the charms of formal and casual wearing.
NICOLI is committed to keep introducing a refreshing burst of feminity each month with their luxurious crystal embellished shoe and handbag collections which can also be admired and bought online at http://www.nicolishoes.com and throughout the GCC at NICOLI boutiques.