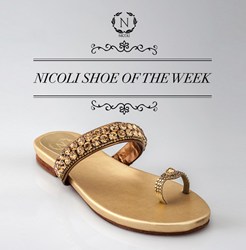 NICOLI is a symbol of success, and of fusion.
Dubai, UAE (PRWEB) August 12, 2013
NICOLI is gratification in its most tangible form. In a world where haute couture, signature styles and diamonds define people; NICOLI's new collection of crystal embellished shoes and handbags stand out most in there ability to reflect you.
The world of NICOLI is not just exclusive, it is elegant, unique and highly sought-after too. Created as the perfect accessory to life's most beautiful and memorable moments, Hollywood glamour and Italian styling is behind, and can be seen in everything NICOLI does; from exquisitely hand crafted evening bags, purses and clutches to glamorous Swarovski diamanté embellished high heels, wedges, sandals and wedding shoes.
In its purest form, the NICOLI Brand is an expression of artists who perpetuate its artistic tradition through elegant designs, international styles, and cultural heritage. NICOLI's new crystal embellished shoe collection are designed in the United Kingdom by Anna Kitchenset, whose fertile mind creates diligently to give NICOLI shoes a glamorous edge. NICOLI's latest collection speaks the language of Hollywood Glamour and Arabian Elegance, it defines the disappearance of borders and the integration of culture. It is Avant-garde, a mover and shaker. Sophisticated yet whimsical, NICOLI's new collection of crystal embellished shoes and handbags promises you exclusivity, quality and style.
The New NICOLI Shoe Collections take us on a whirlwind of experiences from the past and present; the collection reflects the emotion of luxury lifestyle trends and design.
It reinforces the high-end jewel equity of the brand; designs of the season incorporate the signature crystal embellished styles of Hollywood red carpet socialite events. They are infused with the global A-List couture signature styles which reflect the heritage of modern Arabian elegance.
To shop for and view NICOLI's stunning collections visit their online store at http://www.nicolishoes.com .