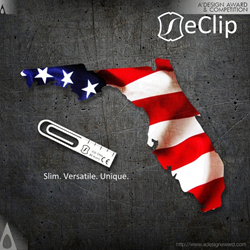 Como, Italy (PRWEB) August 07, 2013
A' Design Award and Competitions are pleased to share that the project Frohne eClip by Derrick Frohne became winner of the prestigious Golden A' Design Award at Digital and Electronic Devices Design Category and picked as one of the winners by the respected jurors of the A' Design Award & Competition within thousands of works.
Regarding Frohne Eclip
The eClip is the world's first paper clip USB flash drive with a metric ruler. eClip is lightweight, fits on the key ring and functions like a paper clip to organize your papers, receipts, and money. eClip protects personal data, intellectual property, employer data, medical data, and trade secrets with security software. eClip was designed in by Frohne in Florida-USA. The memory connector is shock resistant, scratch resistant, water resistant, alcohol resistant, dust resistant, rust resistant, and electromagnetic resistant.
To learn more, please visit: http://www.adesignaward.com/design.php?ID=25870.
The Golden A' Design Award
The Golden A' Design Award is a prestigious award given to top three percentile designs that has carried out an exemplary level of sublimity in design. The designs are judged by a panel of three different jury which is composed of Academic, Professional and Focus Group Members. The designs are evaluated with score normalization to remove any biases and are voted on aspects such as functionality, ergonomics, engineering, presentation, innovation, usability, fun details, technology, and any other specific points that could be considered, each of these points are further weighted for different jury groups.
About A' Design Award and Competitions
A' Design Award and Competitions, aims to highlight the excellent qualifications of best designs, design concepts and design oriented products. A' Design Award and Competitions are organized and awarded annually and internationally in multiple categories to reach a wide, design-oriented audience. Learn more at: http://www.whatisadesignaward.com.