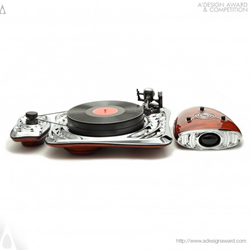 Como, Italy (PRWEB) August 08, 2013
A' Design Award and Competitions are pleased to share that the work Calliope by Deniz Karasahin has been awarded with the famous Golden A' Design Award in Digital and Electronic Devices Design Category, picked as a winner by the international arbiters of the A' Design Award & Competition among a great number of participants.
Insights on Calliope
The ultimate goal of a hi-fi turn table is to re-create the purest and uncontaminated sound possible; the essence of sound is the terminus of the concept of Calliope design. Hence, Calliope is a beautify crafted product with a sculpture of sound that actually reproduces it. Moreover, the product is one of the best performing hi–fi turntables available and this unparalleled performance is both indicated and amplified by its unique form and design aspects.
To learn more about this design, please follow: http://www.adesignaward.com/design.php?ID=27377.
The Golden A' Design Award
The Golden A' Design Award is a prestigious award given to top 3% percentile designs that has delivered an exemplary level of sublimity in design. The designs are judged by a panel of three different jury which is composed of Academic, Professional and Focus Group Members. The designs are evaluated with score normalization to remove any biases and are voted on aspects such as functionality, ergonomics, engineering, presentation, innovation, usability, fun details, technology, and any other specific points that could be considered, each of these points are further weighted for different jury groups.
About A' Design Award and Competitions
A' Design Award and Competitions, aims to highlight the excellent qualifications of best designs, design concepts and design oriented products. A' Design Award and Competitions are organized and awarded annually and internationally in multiple categories to reach a wide, design-oriented audience. Learn more: http://www.whatisadesignaward.com.