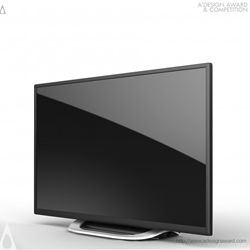 Como, Italy (PRWEB) August 13, 2013
A' Design Award and Competitions are happy to inform that the LED TV designs XX265, XX250 and XX240 by Vestel Id Team has been honored with the famous Golden A' Design Award in Digital and Electronic Devices Design Category and picked as the winner by the esteemed judges of the A' Design Award & Competition among thousands of designs.
About Award Winning LED TV designs
The XX240 LED TV series include 32", 39", 40", 42", 47", 50" from the most affordable mid-size to the highest segment big size TVs with same design idea offering several options. The display design also belongs to the production company and it is assembled with BMS methodology. Display metal is painted with high quality paint because the design leaves the bezel area open and only frames it with wall thickness of the back cover. The XX250 demonstrates border-less TV series of Vestel which is positioned at very high-end segment of consumer electronics. Aluminum bezel holds the display as an almost invisible thin frame. Glossy thin frame gives the product its exclusive image in the over saturated market. On the other hand, the XX265 model represents a plastic cabinet design which is differentiated from conventional models with overall texture and glossy surface left below the screen for logo and visual illusion. Based on the production methods, the model is very cost effective while still considered to have a highly attractive design concept.
To learn more about this design, please visit: http://www.adesignaward.com/design.php?ID=29007
Creative Team of Vestel Id Team
Adem Cengiz Öztürk, Armağan Kaya, Başak Öksel, Burak Emre Altınordu, Can Uçkan Yüksel, Cansu Kızıltan, Çağdaş Kara, Elif Altay, Engin Akbaba, Esra Günlü Kılıç, Gülgün Kalkan Ekici, Hasan Saraf, Itır Tümerdem, Mehmet Kaya, Öykü Gülerçe, Ramazan Murat Erkan and Sultan Kaygın Sel
The Golden A' Design Award
The Golden A' Design Award is a prestigious award given to top 3% percentile designs that has exhibited an exemplary level of quality in design. The designs are judged by a panel of three different jury which is composed of Academic, Professional and Focus Group Members. The designs are evaluated with score normalization to remove any biases and are voted on aspects such as functionality, ergonomics, engineering, presentation, innovation, usability, fun details, technology, and any other specific points that could be considered, each of these points are further weighted for different jury groups.
About A' Design Award and Competitions
A' Design Award and Competitions, aims to highlight the excellent qualifications of best designs, design concepts and design oriented products. A' Design Award and Competitions are organized and awarded annually and internationally in multiple categories to reach a wide, design-oriented audience. To learn more visit: http://www.whatisadesignaward.com