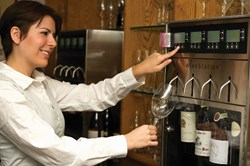 Restaurants that offer a diverse wines-by-the-glass list allow patrons to make selections based on food pairings and enjoy their personal favorites without having to agree on a single bottle.
Campbell, CA (PRWEB) August 06, 2013
Today's wine savvy restaurant patrons expect by-the-glass wine menus to provide more diversity and value. These are just two reasons that Napa Technology's customers are continuing to install the WineStation® preservation and pouring systems in multiple locations nationwide.
At Marlow's Tavern a variety of wines by the glass can be enjoyed on their own and with the chain's popular modern American tavern fare. John C. Metz, executive chef and co-founder of Marlow's Tavern, shares that "We are very excited about our WineStation systems. We have recently installed them in our newest Orlando locations on International Drive and in Winter Park."
"Since we added the WineStation in a few select Atlanta locations last year, our guests have recognized our increased commitment to quality service of wine and some interesting by the glass offerings to enjoy as well. We've seen an increase in by-the-glass wine sales at each of these locations and intend on installing the quality WineStation system at future restaurants in Orlando and Atlanta."
Ordering wines by the glass continues to make strides at restaurants, notably with Millennials, Boomers and women across all age groups eager to try new varietals. "Our goal at Marlow's Tavern is to continue to use the WineStation to offer our guests the opportunity to taste unique wines that they would normally not be able to get by the glass and do it in a way that reflects our long standing commitment to serving wine at the right temperature and the height of its quality profile."
The WineStation's certified 60-day preservation system uses a thermo-electric cooling system to keep each wine in a pristine environment and Napa Technology's proprietary Clean-Pour® dispensing heads eliminate maintenance requirements and product contamination. This intelligent plug-and-play wine preservation and dispensing system can increase the maximum profit potential of each bottle of wine. Restaurateurs can get the system operable in 30 minutes and immediately eliminate serving a bad glass of wine, at any price point.
WineStation, the automated, measured dispensing and preservation solution, uses technology to combine business intelligence, style, and ease of installation and use. Napa Technology's WineStation systems poured more than 10 million ounces of wine in 2012 and are on track to more than double that number in 2013. For more information visit http://www.napatechnology.com
About Napa Technology
Napa Technology, LLC is a designer and manufacturer of Intelligent Dispensing Systems for wine that ensures optimum freshness with each pour. The company's breakthrough product, WineStation®, drives revenue and maximizes the profitability of each bottle. Since 2005, WineStation has been adopted by foodservice and retail operators as a new way to serve, preserve and capitalize on the consumer interest in and demand for the good quality wines. For more information on the Napa Technology WineStation visit http://www.napatechnology.com