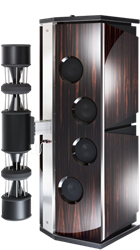 AXPONA did not feel like your typical regional audio show. It felt much more like a CES or Cedia Trade Event.
Ormond Beach, FL (PRWEB) August 05, 2013
AXPONA is very excited to be returning to Chicago and offering the premier consumer audio event for a second consecutive year. AXPONA 2013 was attended by over 4500 attendees who were delighted to discover over 450 unique audio manufacturers. Local dealers as well as national dealers lined up to exhibit and represent every level of audio component including turntables, computer audio, headphones, loudspeakers, cabling and accessories that contribute to a quality home entertainment system. A full marketplace of software was also on display including CD's, vinyl records, downloadable music and all the accessories that accompany playback of these different mediums.
With the addition of over 70 additional exhibit rooms and 30 booth displays AXPONA will be offering even more for the attendee to enjoy and experience.
A very special exhibit will be part of AXPONA 2014. German Physiks of Germany has committed to display their most ambitious system ever. The system will consist of the Emperor Loudspeaker weighing in at over 1000 lbs per speaker and costing nearly $400,000.00 US dollars. Also with this incredible system they will show three additional Borderland speakers and complete the setup with two custom built 18 inch subwoofers. The total cost of the speaker system alone will exceed $500,000.00. Along with the German Physiks speakers, Vitus Audio from Denmark will present seven discreet amplifiers to deliver the required high quality power to this magnificent system. Also supporting this very ambitious effort is Dolby, Oppo, JVC Professional and DH Labs. The Exhibit itself will be hosted and presented by Mark Waldrep PhD, of AIX Records. The system will exclusively use for demonstration Dr. Waldrep's incredible software that has been received with many accolades over the years and most recently given marks such as recording of the month from Stereophile magazine and other mentions establishing his work as the absolute reference for 5.1 high resolution audio.
The AXPONA consumer electronics event will be hosted by The Westin O'Hare from April 23 - 27, 2014. There will be a special new component for 2014 with the Dealer / Manufacturer Meeting and Banquet to be held on the April 23 from 3:00 PM - 8:00 PM. This is an optional event with limited availability. Please contact AXPONA at 877/246/3892 or 386/586/5720 for details and reservations.