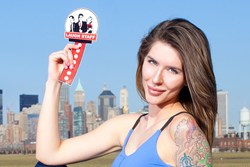 It doesn't matter where you're from, everyone understands funny.
Cleveland, Ohio (PRWEB) August 05, 2013
With customers stemming from the United States, Canada, the United Kingdom, and as far as Australia, the Cleveland-based team of wedding speech writers and comedic geniuses at Laugh Staff announce their international expansion. Best men and maids of honor need comedic writing assistance around the globe, comedy and good wedding speeches truly hold no boundaries.
In May, Laugh Staff's very own Kyle Ayers was a guest blogger for the UK-based site, Best Mans Best Man. He wrote a post titled The Best Man Rules and 6 Pranks for Guys with Balls, where he discusses ways for the best man to stand out, add some value to the wedding, and insert a little humor to the traditional speech. This blog post took off in the UK as a great source for information, ideas and comedic wedding pranks.
"The post we wrote for the UK audience sparked international interest for our company. A wedding speech can be traditional and ceremonial, but comedy is something that really hits home for an audience," states Cameron Amigo, co-founder of Laugh Staff. "No matter where you're from everyone wants to laugh. Laughter is the universal language. We help anyone from anywhere write and give a hilarious and memorable wedding speech."
Since their launch in March 2013, Laugh Staff has been working with clients ranging from Cleveland to Australia. They have worked with best men, maids of honor, and other speech givers alike, receiving nothing but positive feedback for their services. They are eager to continue helping best men in need of some comedic flavor make an impression on their friend's big day.
A little humor can go a long way. Co-founders of Laugh Staff, Cameron Amigo and Josh Womack, are both stand-up comedians. The story began at a wedding, where Amigo was asked to tell a few jokes after a traditional tissue-worthy best man speech. He provided so many laughs that another wedding goer asked for his assistance with an upcoming best man speech that he was going to give. From there, Laugh Staff, Inc. was born.
For more information about Laugh Staff, Inc. visit http://www.laughstaff.com, call 740-706-6690 or email info(at)laughstaff(dot)com.
About Laugh Staff, Inc.:
Laugh Staff, Inc. was founded in 2012 by a team of comedians and writers in Cleveland, Ohio. Laugh Staff helps their clients with best man speeches as well as providing best man speech examples on their blog. They assist best men and maids of honor in speech-editing, speech writing, and provide training on speech delivery. Recognizing the importance of the big day, Laugh Staff's professional comedians work with best men and maids of honor to ensure they make a lasting impression.