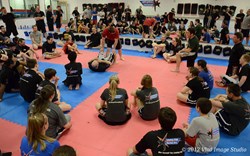 Meet and train with UFC Legend Matt Hughes!
Allentown, PA (PRWEB) August 16, 2013
Future Hall of Fame fighter, Matt Hughes returns to Leading Edge Martial Arts on Saturday Oct 5th 2013.
In April 2012, Matt Hughes conducted an amazing day of workshops at Leading Edge Martial Arts in Allentown PA. By popular demand, he will be returning again this Oct. to conduct two more MMA workshops.
He will do a 1.5 hour children's workshop and a 2 hour adult workshop.
Tickets will go on sale to the public on 8/19/2013. Call 610-434-EDGE (3343)
or go to http://www.leadingedgemartialarts.com for additional details.
Event Schedule:
3pm Children's MMA workshop $ 50
5pm Adult MMA workshop $ 75
7:30pm Puplic Autograph Session $ 25
*All sessions followed by Photograph and Autograph session.*
(Autograph fee including in MMA workshop ticket price.)
Limited tickets available.
http://www.leadingedgemartialarts.com
610-434-3343